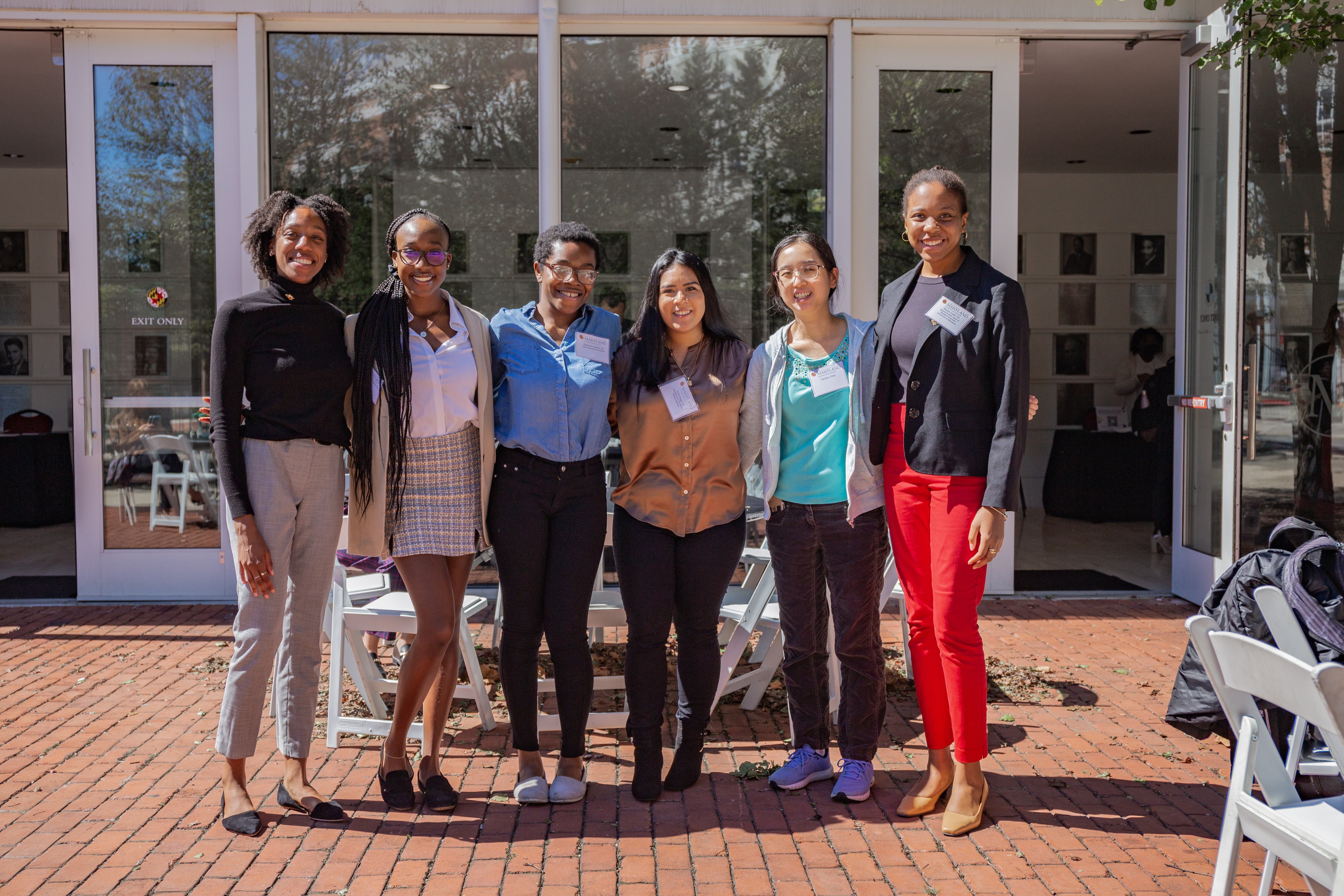 Terps Thrive
Join a community of unapologetically ambitious alumnae committed to creating a community of supportive Terp women in 2023. This one-month, online mentorship program will help Terps advance their careers, set goals and build community.
Information about the Terps Thrive: Women's Mentorship Program event
About
---
If you are a woman-identifying Terp looking to advance your career, develop new skills and build a connection with a mentor in just one month, this program is for you.
New Year, New Goals!
---
Terps Thrive mentorship program will pair together Terp mentors and mentees based on career industries and the following tracks:
Women new in their careers (1-3 years post-graduation, looking for a career mentor)

Women who work in male-dominated spaces

Women of color who work in predominately white space
How it works
Terps Thrive is a one-month program dedicated to building a space where women empower other women to achieve their goals and advance their careers. Participants will be paired 1:1 to work together through an online, guided mentorship program that includes:
Informational interviews

Conversations about strengths and areas for growth

Future planning

Mock-interviews

Optional weekly webinars on issues facing career women

Discounted registration to the first annual Women's Leadership Development Conference on March 3
The program will take place on the University of Maryland's networking platform, Terrapins Connect. Everyone interested in participating in the program will be asked to fill out an application indicating which track they are most interested in and if they are interested in applying as a mentor or a mentee (tracks include: women new to their careers, women working in male-dominated spaces, and women of color working in predominately white-spaces).
The program has a limited number of seats so not everyone who applies may be accepted. Due to an overwhelming amount of initial interest and sign-ups, any mentors that sign up after January 4 will be added to our waitlist. There are still mentee spots available. 

Mentees
Explore career paths, set goals and foster a relationship with a mentor. Mentees can be current graduate students. 
Mentees will:
Be paired with a Terp Mentor by February 1

Take the lead on scheduling four 30-minute meetings with their mentor

Follow the mentorship playbook to guide sessions, altering the curriculum as they see fit

Have access to exclusive weekly webinars on topics related to the three tracks
Ideal Mentees Are:
Ambitious women who are eager to advance their career or gain clarity on their career path

Women who can take the lead on scheduling meetings with mentors at least four times of the course of a month

Fit into at least one of the three tracks above (women new to careers, women in male-dominated spaces, women of color in predominately white spaces)
Register Today for Terps Thrive
Mentoring programs dramatically improved promotion and retention rates for minorities and women — 15% to 38% as compared to non-mentored employees
Mentors
Use your experience to guide, encourage and support a young alum. Mentors must be graduates of the University of Maryland. Due to an overwhelming amount of initial interest and sign-ups, any mentors that sign up after January 4 will be added to our waitlist.

Mentors will:
Be paired with a Terp Mentee by February 1

Share their schedule with their mentee, committing to a minimum of four 30-minute sessions over the course of a month

Commit to being on-time and engaged mentors

Discounted access to the first annual Women's Leadership Development Conference
Ideal Mentors Are:
Women who have been in their careers for 7+ years and are interested in helping other Terp alumnae achieve their goals

Women who can commit to four 30-minute virtual or phone meetings with their mentee

Can mentor in at least one of the tracks above (women new to careers, women in male-dominated spaces, women of color in predominately white spaces)
Register Today for Terps Thrive
87% of mentors and mentees feel empowered by their mentoring relationships and have developed greater confidence.
Program Cost
Discounts for Alumni Association Members
Mentee Cost: 
$20 for non-members 
$10 for Alumni Association members 
There is a registration fee for two primary reasons. First, there is a significant amount of staff and technology cost to run the program which the registration fee helps offset. Second, the small fee helps ensure that every participant is serious about the program which makes the experience better for everyone.
It is free to mentor, however, mentors can opt into a $20 donation to cover the cost of a mentee. Any excess donation will be allocated to the Women's Alumnae Fund in support of future programs.
Frequently Asked Questions
No. The program is virtual and will pair people based on their goals rather than geography.
You must apply before Jan 20, 2023 to be considered for the program.
Yes. This program will be entirely run through Terrapins Connect and it is required that you have a profile. However, don't worry! The sign-up process will be easy and seamless, and we are here to help if you have any questions. Profiles are free to create and you can optimize your notification settings once you have an account.
This program has been designed to last only one month, with weekly meetings four times throughout the month (once a week). While you can opt into additional webinars that will be offered, meeting with your mentor or mentee is only required four times for 30 minutes each.
Mentees will be responsible for preparing for these meetings, which should take 15-30 additional minutes per week.
This program is ideal for people who are mostly free throughout the month of February.
Yes. We don't want to cost of the program to be a barrier for participants who may not be able to afford the registration fee. On your application, please indicate if you'd like to be considered for a scholarship due to limited financial resources.
This March, the Alumni Association is hosting its first-ever Women's Leadership Development Conference which will take place on-campus on March 3, 2023 at the Samuel Riggs IV Alumni Center. Terps Thrive participants will receive a discounted registration, as well as the opportunity to partake in a networking hour where you can meet fellow Terps Thrive participants.
Additional Questions?
Email us