June 2022 Alumni Newsletter
Pri
de
Mon
th
Eve
nts
Join us in celebrating our LGBTQ+ alum community with a month full of special events. From the D.C. pride parade to The Rocky Horror 60's Show, you're sure to find something to enjoy. We can't wait to see you to celebrate Pride!
Learn More
Re-entering the Job Search With Confidence
June 15 | Noon EDT
Virtual
When you're embarking on a job search for the first time in a long time, you might make a lateral move or settle for something that pays less than your last job. This webinar will help you build your confidence to apply for the jobs that will have you earning what you're worth, contributing at the level you're ready for and loving the next step in your career.
Register Today
This webinar is brought to you in partnership with the Coaches Corner Program, which connects Terps with top-level Terp coaches interested in helping you start, advance or pivot your career.
Meals on Wheels, a leadership organization supporting more than 5,000 community-based programs to address senior isolation and hunger, is hiring a learning and development manager.
Workday, an organization that helps the world's largest organizations adapt to what's next, is hiring a business analyst.
Industry Dive, a company that helps decision-makers stay ahead in competitive industries through journalism, is hiring a software engineer.
See All Jobs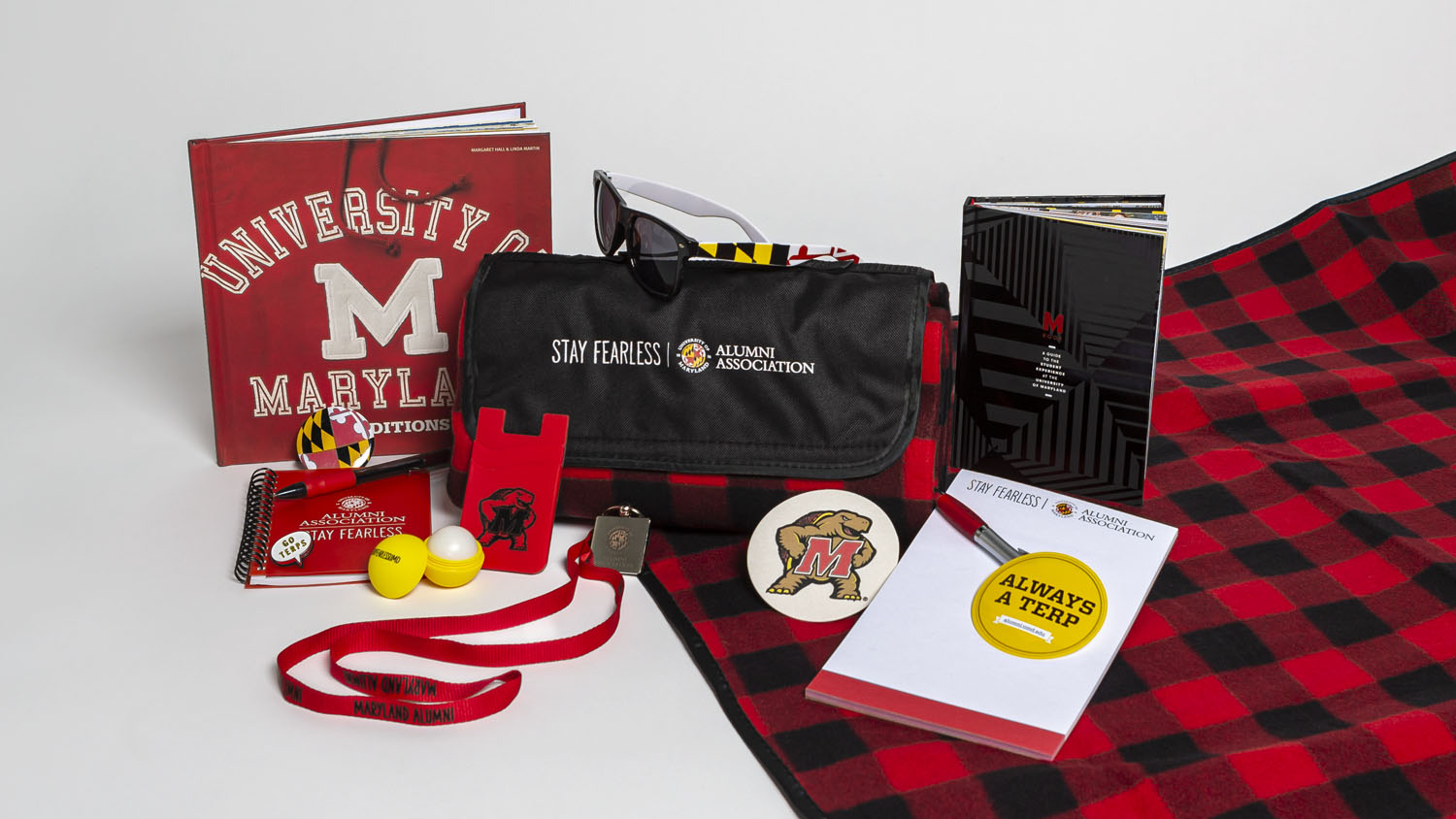 There Is Still Time to Influence the Conversation
Have you filled out the 2022 Alumni Association survey? Check your inbox for our survey email and complete the survey for a chance to win one of 10 University of Maryland swag bags, pictured above. Plus, complete your survey in the next 24 hours and be entered to win an extra prize: a Maryland insulated can cooler.
Support a #TerpBusiness
This searchable online directory features businesses of all kinds: event planners, health and wellness coaches, website designers and more. Check out the Terp Referral Exchange Business Directory to find a #TerpBusiness that meets your needs. If you are an alum looking to promote your business, products or services, sign up to join the Terp Business Directory today for exposure to our network of 400,000 Terps worldwide.
Learn More
This June, we're celebrating our LGBTQ+ alums, including highlighting a #TerpBusiness or two. Check out our blog post, Helping Terp Companies Go "Lean" where we highlight Brad Eisenberg '09 and his company, BE Lean.
Travel
Save on Upcoming Tours
Book before the AHI Travel brochure is in the mail to benefit from its paperless savings offer. Save $250 per person on selected trips, plus a special savings of another $250 per person on many trips. Combine both offers to enjoy up to $500 off! This special pricing is time-sensitive, so make your reservation today.
View Eligible Trips
Stay active. Stay informed. Stay Connected.
How do you stay fearless? Share your pictures with us on social media!
Pop Quiz
Photo by Edwin Remsberg.
June is National Dairy Month. Contrary to its name, the UMD Dairy Barn, part of the Campus Farm, is not just home to dairy cattle. Which of the following animals is NOT housed there?
Sheep
Pigs
Horses
Goats
Beef Steers
Submit Your Answer
Three Terps who respond correctly will be randomly selected to win a pair of Alumni Association sunglasses.
Charlotte via Instagram
@yoonmiyah
Maryland Day is basically our version of homecoming! @chrisanguyen, @istep_23 and I celebrated 10 years since our graduation today! It felt so nostalgic to be back on campus and also great to see we still look like college students We always make sure to stop by our @bsosumd tent for photos and had a great time at all the other booths!
University of Maryland Alumni Association
Samuel Riggs IV Alumni Center / 7801 Alumni Drive / College Park, MD 20742-1521
301.405.4678 / 800.336.8627 / alumni.umd.edu