Home
About Us
News & Stories
Terp Writer's Corner: Pallavi Guha Ph.D. '18
Terp Writer's Corner: Pallavi Guha Ph.D. '18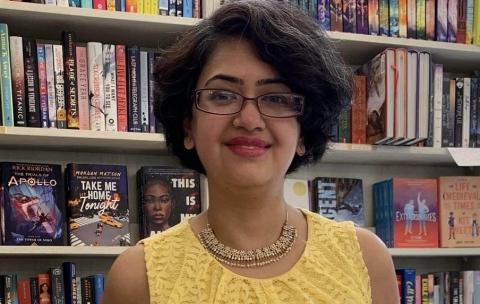 By Ellie Geraghty
Pallavi Guha Ph.D. '18 is an assistant professor of journalism at Towson University in Towson, Maryland. She has worked internationally for leading media organizations including BBC News and The Times of India. She has won multiple awards for her research and teaching and most recently published her book, Hear #MeToo in India, examining the social movement in India. Read on to learn more about what inspired Guha to write her book and what advice she has for her fellow Terp writers.
Describe your book.
This book examines the role media platforms play in anti-rape and sexual harassment activism in India. Including 75 interviews with feminist activists and journalists working across India, it proposes a framework of agenda-building and establishes a theoretical framework to examine media coverage of issues in the digitally emerging Global South.
What, or who was your inspiration?
Feminist activists from rural India, who work tirelessly to support victims and survivors of sexual assault with limited resources.
What is the #1 item you want people to take away from your story?
Digital activism and hashtags look different when resources and digital tools are limited. Everyone cannot participate in digital activism. So the recognition and empathy that even if they have the access, they cannot participate in digital activism due to several social, economic, cultural and locational factors.
What advice would you give to a new writer?
Put your thoughts down on paper/computer, whenever you get time. Focus on writing and not on editing in your first draft.
What book is on your nightstand right now?
"Mastermind: How to Think Like Sherlock Holmes" by Maria Konnikova.
What is your favorite book?
"Heroic & Outrageous Women" by Gemma Alexander.
What do you do in your non-writing free time?
Spend time with my daughter and husband!
What is your favorite alumni event or experience?
The Howard County Terps Alumni Network meet and greet event with President Loh.
As a student, what was your favorite spot on campus?
Knight Hall Atrium.
What's your Fearless Idea?
Fearlessness comes from empathy and support! Be that support.
###
The Alumni Blog connects you with the latest at UMD. Check out articles on advancing your personal and professional goals, elevating your UMD pride, and celebrating Terp traditions, legacies and accomplishments. For even more content, follow the Alumni Association on
Facebook
,
Instagram
,
Twitter
,
LinkedIn
and
YouTube
. Become a
UMD Champion
to receive monthly shareable pride points, news and more straight to your inbox.