Home
About Us
News & Stories
Friday Five: Terp Young Scholars
Friday Five: Terp Young Scholars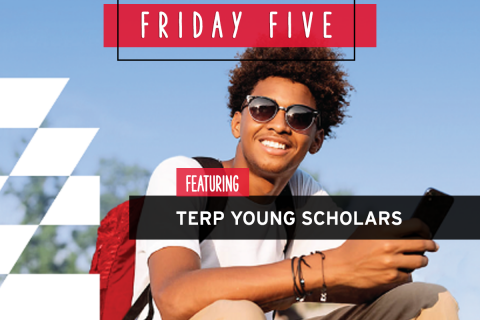 Welcome to the Friday Five, a roundup of the best your Alumni Association and other UMD communities have to offer. From the latest events to fun facts, here's essentials in five categories for you to check out this weekend.
The results are in: You All Are New Year's Resolutions Champions
TL;DR - Last Chance - Career Week, Alumni Excellence Award Terps Honored, Friday Instagram Stories Question
1. What's Happening
- CAREER WEEK - January 25-29
Career Week starts January 25. Have you signed up yet? Don't miss this week'
s worth of free career events to advance your professional goals.
REGISTER
- TERRAPIN LOVE WEEK - February 8-12
Celebrate love in all forms, from romance to self love, loving your career and bringing yourself through hardship. REGISTER
*Highlights: Virtual Wine Tasting | The Newlywed Game
- NEW YEAR, NEW YOU - January 27
Only one sesion left - identify and make a plan for your 2021 personal goals. REGISTER
- SOUND ON SERIES - February 10 | 7 p.m.
Keeping the Spark Alive: Marriage and Dating During a Pandemic. Join us and relationship therapist Terps to answer your questions on navigating dating or maintaining a healthy relationship during the pandemic. You will also have a chance to share what has been working for you, helping us all better our relationships in the new year! REGISTER
- TERPS YOUNG SCHOLARS | July 11-30, 2021
Give your talented high school student a pre-college experience while earning three college credits at UMD. Alumni Association members receive a 20% alumni discount. APPLY NOW
2. Quotables

- Alumni Excellence Awards Winners
"Graduates of the University of Maryland are among the best and brightest in their fields. From scholars and innovators to entrepreneurs, teachers and researchers, our alumni are leaving their mark on our state, nation and world. The Alumni Excellence Awards recognize the accomplishments of select Terps and honor these recipients with distinction." Read More
- Terps on Campus for Spring Must Get COVID Tests Every Two Weeks
"The Spring 2021 semester, which kicks off with move-in this week, will bring ramped-up COVID-19 testing requirements to keep students, faculty and staff safe as university, local and state officials work out the details of an on-campus vaccination program." Maryland Today Staff, Maryland Today; Read More
- New Major Explores Roots of Western Religion
"Anew University of Maryland major will give students an opportunity to examine major western religions at their point of origin and delve deeply into their interpretation today." Aadit Tambe M. Jour '22, Maryland Today; Read More
- Terp Bookworms - Unite!
Join the UMD Alumni Virtual Book Club to connect with fellow Terps and continue learning. Enjoy books on business, communications, leadership, productivity, fiction, leisure and more. Brought to you by PBC Guru. FIND CLUB
-

Testudo Trivia - How Much Do You Know?
There's a spot on campus where Terps can see the Washington Monument. Where is it? Take a guess, and see the answer at the bottom of this post.
1. Top of McKeldin Library
2. Top of Capitol One Stadium
3. Top of Xfinity Center
4. Top of Stamp Student Union
- It's Friday - New Year's Champs
It's official - 60% of InstaTerps claim their New Year's resolutions will last forever (we'll see...). Head on over to our Instagram Stories for our new Friday question.
4. Let's Get Social
5. Friendly Reminders
- Tell Us Your Story!
How has the Alumni Association positively impacted your life? Perhaps you've found a community with fellow Terps, used the Alumni Association's resources to help your professional goals, or maybe you love the benefits of being an Alumni Association member. Submit your experience here for a chance to be featured on our Alumni Blog and social media. SUBMIT STORY
That's it for this week, Terps. Make sure to check back with us every Friday. Have a lovely weekend!
Trivia Answer: Top of Capitol One Stadium
The Alumni Blog connects you with the latest at UMD. Check out articles on advancing your personal and professional goals, elevating your UMD pride, and celebrating Terp traditions, legacies and accomplishments. For even more content, follow the Alumni Association on Facebook,

Instagram

and Twitter.