Home
About Us
News & Stories
Alumni Spotlight: Adrienne (Freeman) Nicole '03
Alumni Spotlight: Adrienne (Freeman) Nicole '03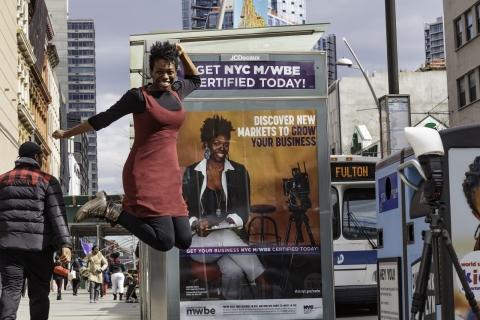 By Allison Eatough '97
With jobs at the sketch comedy series "Chappelle's Show" and the music and talent series "Showtime at the Apollo," Adrienne (Freeman) Nicole '03 began her production career before she even graduated from UMD.
As a broadcast journalism major, Nicole worked during UMD's summer and winter breaks, conducting auditions and coordinating appearances for the shows. During the school year, she reported for Black Explosion and WMUC, UMD's student-run radio station.
Employers recognized her talent, and after graduation, her career hit the fast track. Nicole worked as a producer for a Pennsylvania news station and MTV before becoming an online programming producer for BET. There, she helped expand BET's digital channel and produced sponsored videos for companies like McDonald's and L'Oréal.
But in 2009, the Emmy-nominated producer received a diagnosis that changed her career path – and her life.
"(For months) my knees were swelling, and I was having trouble walking, pain and night sweats," Nicole said. "Then one day while I was at work, I was sitting at my desk and my heart was just pounding. There was a hospital up the block, and I actually couldn't even make the block. I had to take a cab because I was so lightheaded and had a hard time breathing."
Doctors diagnosed Nicole with lupus, a chronic autoimmune disease that can cause widespread inflammation and tissue damage.
"I was 27, at the prime of my career," she said. "It was quite a bit of a blow, particularly since I defined myself a lot by my career. It's like, 'Well, if I take that producer away, who is Adrienne?' There was a bit of a reawakening or rediscovering that had to happen at the time."
To manage her health and stress levels, Nicole wanted more control over her schedule. She also wanted credit for the content she created – something she said was lacking in her previous jobs. So in 2010, she launched Adrienne Nicole Productions, an award-winning, full-service video production company based in Brooklyn, NY. The company quickly took off, and Nicole realized she found her niche.
"We tell the best genuine, realistic stories," she said. "One of my pet peeves is seeing something on television or in a spot and thinking that would never happen in real life."
Nicole credits her journalism studies and experiences for ensuring accuracy in her work and "telling stories that are real," she said.
"We also tell healthcare stories really well," she said. "That's a passion of mine. Particularly as a lupus advocate, I love to talk to patients, to really pull those stories, and then also present them and use them in a realistic light."
In the future, Nicole said she hopes to produce even more healthcare stories to help educate patients and caregivers, especially around lupus.
Along with running her production business, Nicole is a volunteer for the Lupus Research Alliance and an advocate for lupus patients and caregivers in Washington D.C. She is also an ambassador for the New York City Minority and Women-Owned Business Enterprises Program and a classically trained opera singer.
​###
The Alumni Blog connects you with the latest at UMD. Check out articles on advancing your personal and professional goals, elevating your UMD pride, and celebrating Terp traditions, legacies and accomplishments. For even more content, follow the Alumni Association on Facebook, Instagram and Twitter.