Home
About Us
News & Stories
Alumni Spotlight: Cate Luzio '97
Alumni Spotlight: Cate Luzio '97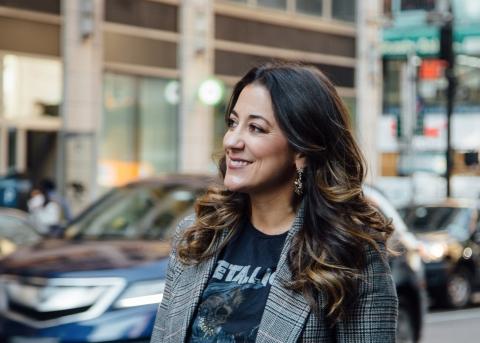 When former financial services executive Cate Luzio '97 launched Luminary NYC in 2018, she kept a running list of success stories growing out of her women-oriented collaborative space.
In less than a year, they were too numerous to count.
Luminary members are investing in each other's start-ups, partnering on cross-industry projects and teaching valuable networking lessons that men might have better access to in the corporate world.
"I'm, at the heart of it, a salesperson," said Luzio, who spent more than two decades in executive roles with HSBC and J.P. Morgan. "Most women, by nature, are social, and they do networking better face to face. There's a natural tendency here to be more open, to share perspective and stories."
As of March 2020, Luminary has more than 700 members and 30-plus corporate partners, all of them committed to creating programming and developmental opportunities that boost women's career prospects. Members get access to workspaces and conference rooms, a fitness studio, beauty bar, meditation room and more.
Luminary is also home to a new alumnae network for University of Maryland graduates in New York, Connecticut and New Jersey. Luzio has already planned six UMD events, including an upcoming discussion on women in the workplace hosted by Aundrea Cline-Thomas, MS '06.
After so many years working largely out of the country, she's happy to reconnect with her alma mater and build an affinity among fellow Terps in the business world — especially because they may can share skill sets and job knowledge while reminiscing.
Luzio majored in political science at UMD, then earned a master's degree in international relations at Georgetown. Afterward, the fluent Spanish speaker was promoted to vice president for corporate development and global markets at MBNA — and she spent much of the 2000s and 2010s traveling, eventually managing $2 billion in revenue and teams in 72 countries for HSBC.
Advancing through a male-dominated industry, Luzio found mentors who pushed her to accept new challenges. That support wasn't universal.
"I wasn't seeing the same for a lot of my peers, and I wasn't seeing the investment of time and resources in developing women talent," Luzio said. "It's still a global problem."
Dissatisfaction often leads women to leave the corporate world and take their best ideas with them, she said, pointing to the fact that women — 40% of them minorities — start some 1,800 businesses a day in the U.S.
Others can't find a way back in after taking time away to raise family, or they struggle to change fields or specialties.
"Where is the cross-pollination of interest and learning?" Luzio asked. "At Luminary, it happens, and it's almost unavoidable."
Named one of the Most Powerful Women in Banking multiple times by American Banker, Luzio stepped back from that fast-paced life in late 2017.
The idea for Luminary was born as recruiters flooded her inbox with offers to join other global corporations. Within a week, she'd started formulating a business plan that to help other women advance instead.
"The focus needs to be on the next generation of leaders," said Luzio, also a board member for Girls Inc, a national skill-building organization. "We want to prepare women as they come out of college, not just mid-career. We want to create an ecosystem that allows women to launch new careers, advance or make it to the C-suite."
The Alumni Blog connects you with the latest at UMD. Check out articles on advancing your personal and professional goals, elevating your UMD pride, and celebrating Terp traditions, legacies and accomplishments. For even more content, follow the Alumni Association on Facebook, Instagram and Twitter.