Home
About Us
News & Stories
Alumni Spotlight: Jason Gates '11
Alumni Spotlight: Jason Gates '11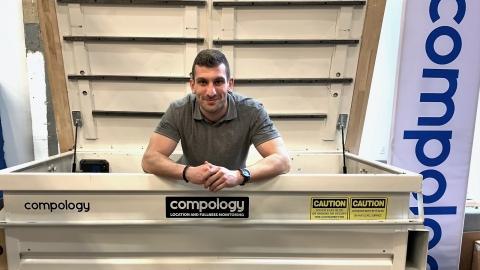 By Kimberly Marselas '00
The dark recesses of New York City's subway system may seem an odd place for a bright idea.
But as an intern for a construction engineering firm, Jason Gates '11 identified a major problem there: Dumpsters for the tunnel construction project he was assigned to were scattered across 60 blocks, some overflowing with various materials that required multiple waste handlers, while others were "emptied" when they weren't close to full.
Less than a decade after earning his civil and environmental engineering degree at Maryland, Gates is CEO of a company offering innovative Dumpster, trailer and shipping container monitoring to some of the nation's largest trash and recycling haulers, transportation companies, government agencies and Fortune 100 companies.
Compology uses artificial intelligence to track fill levels and determine content type — saving customers money by reducing waste and optimizing scheduling.
"I'm a hands-on person, so I'm really drawn to tangible projects," says Gates, who learned to love building and problem solving in the university's Quality Enhancement Systems and Teams (QUEST) Honors Program. "There were really no good tools available to communicate and coordinate (waste hauling). It was just cell phones and clipboards, maybe Excel sheets."
Creating a multifaceted technology platform to improve the process would fulfill Gates' fascination with infrastructure and his entrepreneurial drive.
After taking a job with Lockheed Martin, Gates spent his nights and weekends working with friend and eventual Compology co-founder Ben Chehebar to come up with a product for the waste industry. Their system relies heavily on rugged cameras and software that delivers data, trends and actionable opportunities.
Eight years after its founding, Compology has over 200 customers, tracks more than 160,000 Dumpsters, trailer and shipping containers and operates across the United States, Canada and Mexico.
Where the average commercial Dumpster is picked up when it is 46% full, Compology uses its camera-based technology to schedule service much closer to 100% capacity. Its proprietary software also prompts companies to right-size service and reposition Dumpsters; reduces intermingling of materials that must be hauled separately; and enables fining for contamination.
Home security firm ADT credits an implementation with a 53% reduction in waste hauling costs and a significant reduction in carbon emissions with fewer garbage truck runs.
Gates has taken his share of ribbing over his role as a garbage man of sorts, but he takes pride in the business' ability to foster sustainability. Late last year, he matched a sustainability grant from the university and donated a Compology system with 10 cameras to be used across campus. Students in the QUEST program mine the data, while the facilities department may use findings to improve practices.
"I love, as an academic, seeing these win-win combinations," says Joe Bailey, associate research professor and QUEST executive director. Earlier this year, he interviewed Gates for his "Bootstrapped" podcast, which highlights fearless Terps to inspire future entrepreneurship.
A fitness enthusiast who was training for his first marathon before COVID-19 hit, Gates wants to keep Compology agile as he looks for more verticals. It's a philosophy he says he first learned at Maryland.
"You're never going to be able to get full information," he says. "How do you plan for that on the front end? You have to be flexible and responsive. Every time you get more information, you can reassess."
The Alumni Blog connects you with the latest at UMD. Check out articles on advancing your personal and professional goals, elevating your UMD pride, and celebrating Terp traditions, legacies and accomplishments. For even more content, follow the Alumni Association on Facebook, Instagram and Twitter.