Home
About Us
News & Stories
Alumni Spotlight: Nathan Glenn '12 and Anna (McGucken) Glenn '12
Alumni Spotlight: Nathan Glenn '12 and Anna (McGucken) Glenn '12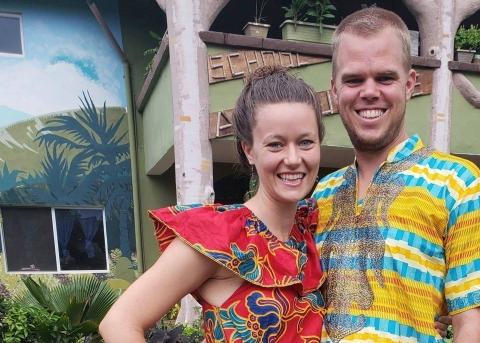 Nathan Glenn '12 and Anna (McGucken) Glenn '12 gained a lot during their time at Maryland -- including each other. But perhaps the most unexpected thing they gained was a new life plan: move to Liberia.
"While I was in school, I took an elective agriculture resources class about the economics of global food security and it sparked my interested in doing international agriculture work," says Anna.
Both Nathan and Anna grew up in Maryland on family farms, but a few years after graduating (Anna went on to pursue a master's and Nathan taught high school agriculture), the two decided to relocate 5,000 miles across the globe.
"I have a passion for working with people who are in need and I see agriculture as a big solution for helping to end food insecurity issues and poverty," Anna explains.
Their first year in Liberia, the Glenns worked with AgriCorps, teaching agriculture classes and conducting outreach with local farmers. After a year of service, the Glenns took their next big leap—choosing to stay in Liberia.
Now, the two work for the nonprofit Hope in the Harvest Mission International. Anna serves as a teacher and agriculture department chair at Liberian International Christian College, while Nathan helps to oversee the research and demonstration farms.
A typical day for them may include teaching classes and mentoring students or checking in with the animal workers, fixing broken machines and going to the market, respectively.
"You can't make a schedule in Liberia very well," Anna says. "Things like even printing a few exams are not as easy as they are in the U.S. Right now, we don't have electricity, so we have to turn on the generator."
Even so, their impact makes the struggles worth it, Anna says.
"I have an opportunity to influence students and the quality of students' education, she explains. "Unfortunately, in Liberia, the quality of education these students have received in the past is low because of the war, because of Ebola, because of lack of resources."
Nathan is motivated both by his own passion for agriculture business and be seeing his colleagues grow.
"Everything we do is focused on trying to help develop jobs and help our guys to realize how important it is to stay ahead of small things like pre-ordering feed supply before we run out," he says.
Since 2017, the Glenns have partnered with the student organization ROOTS Africa to help Agriculture and Natural Resources students learn about international agriculture and support agricultural development in African countries. The organization has also fostered a global classroom, where the Anna co-teaches with AGNR students. In June, four UMD students and three faculty will travel to Liberia.
"It's a really cool opportunity for us to still be involved with Maryland," Anna says. "Last year, the UMD students and alumni collected a bunch of books to send over to our students because we didn't have a single agriculture book in our library yet."
To learn more about the Glenns' work with ROOTS Africa, click here and follow along with the their daily life at Glenns Go Global.
###
The Alumni Blog connects you with the latest at UMD. Check out articles on advancing your personal and professional goals, elevating your UMD pride, and celebrating Terp traditions, legacies and accomplishments. For even more content, follow the Alumni Association on Facebook, Instagram and Twitter.