Home
About Us
News & Stories
Cherishing Your Four Years, with Olivia Mandell '20
Cherishing Your Four Years, with Olivia Mandell '20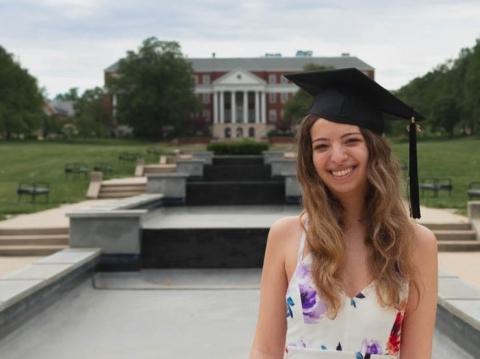 By Spencer Friedman '22
This class of 2020 alumna is no stranger to working with former Terps. Her efforts working with UMD alumni in the business world helped her realize the direction she wanted to take her studies.
Why UMD?
Olivia Mandell '20 is from Lower Merion, Pa., a suburb outside of Philadelphia. She always thought Maryland had great academics, an exciting sports program and a great reputation. Mandell knew she would be able to explore new opportunities on campus when she committed to UMD.
What clubs and organizations were you involved in at UMD?
Working in the Alumni Development Relationship Office in the Robert H. Smith School of Business was a great experience for Mandell over the summer. In this role, she worked with a group of students assigned to different alumni offices and gained significant networking opportunities.
Have you picked up any new hobbies or interests since graduation?
Mandell made the monumental transition from Apple Music to Spotify recently, so she's been doing a deep dive into certain musical artists and crafting new playlists.
Where do you currently work, and what's your job title?
She landed a job with TekMonks, a cybersecurity company she interned for through her senior year. The company is internationally-based, but Mandell is permitted to work remotely. With most of its employees in India, the switch to an online working environment was not too difficult for her.
What advice do you have for any current students or recently graduated Terps?
"I was not expecting to have my time cut short as a senior. College flies by, you never know what's going to happen," Mandell recounted, adding, "So cherish all the time you have in school to enjoy your time both on and off-campus. The more connections you make at Maryland, the easier it will be to find opportunities after graduating."
###
This 20-part series highlights successful University of Maryland alumni from the Class of 2020. Are you a Class of 2020 graduate? Reach out to Jessica Lee (jlee1021@umd.edu) to learn more about getting involved with your Alumni Association. The Alumni Blog connects you with the latest at UMD. Check out articles on advancing your personal and professional goals, elevating your UMD pride, and celebrating Terp traditions, legacies and accomplishments. For even more content, follow the Alumni Association on Facebook, Instagram and Twitter.