Home
About Us
News & Stories
Dave Via '86 and Lauri Via '86: Loving Maryland and Each Other for 35 Years
Dave Via '86 and Lauri Via '86: Loving Maryland and Each Other for 35 Years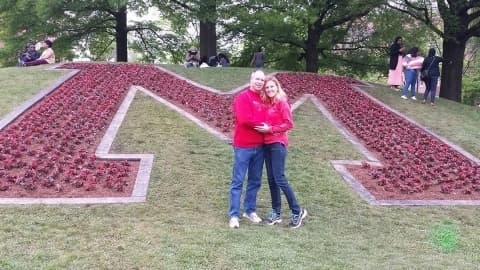 By Kimberly Marselas '00
When Dave and Lauri (Boyce) Via graduated together in 1986, they never left their university far behind.
The couple bought season football tickets almost immediately, rarely missing a game as they grew their careers and their family. In the early years, they called those game-day visits "tail-walking," pulling their three children between alumni events in a wagon.
In recent years, they've held eight seats, enough to host friends and those now-adult children, sons Chris '13 and Steve '15, and daughter Kelli, who graduated from Towson University (but still cheers for the Terps).
The elder Vias just retired to South Carolina, but they'll still be at every game in spirit — with their names on a bench in Moxley Gardens and on the rotunda wall inside the Samuel Riggs IV Alumni Center.
The recognitions honor recent gifts the Vias made in support of the Alumni Association, cementing their legacy at Maryland and continuing their dedication to the university that launched their careers.
Dave graduated from the electrical engineering program and soon shifted into software development and management, where he spent 33 years with Vitro, Computer Sciences Corporation and Integral Systems/Kratos. Lauri majored in accounting but after a stint as a Maryland state auditor, moved to NASA and positions helping to build satellites.
Each returned to campus mid-career to offer insights about respective industries through alumni networks, and they became Alumni Association lifetime members. The Vias also routinely give to campus campaigns, both on Giving Day and to programs they've learned about while attending Maryland Day.
Making more significant gifts to support the Riggs Center and the Alumni Association felt important to the Vias, who came to view the Association's home as their home on game days.
"We just want people to feel the same love for the university that we have," Lauri says. "And I'm hoping our gift inspires other people to give too."
Lauri decided to attend Maryland as a "safe" school. With about 15 fellow Terps in the family, she knew campus well but wasn't truly excited to attend until she arrived full-time. She joined Alpha Xi Delta, and it ended up changing her life. Lauri met Dave at the sorority house in 1985, when the Leonardtown resident took a job busing tables so he could get free meals.
The couple married in 1987.
In countless visits over the decades, they've watched with appreciation as the campus changed physically and additional majors and partnerships opened doors for today's students. But the Via's haven't forgotten the opportunities their own educations provided.
"If it wasn't for the university, we wouldn't have had the start we did," Dave says. "I just wanted to give something back and have our kids and maybe grandkids recognize that."
To learn more about leaving a legacy at the university — or to have your name installed on a bench in the Moxley Garden — contact Jeff Williams at jeffsw@umd.edu. To make a Giving Tuesday gift to the Alumni Association please visit https://go.umd.edu/Sf2.
###
The Alumni Blog connects you with the latest at UMD. Check out articles on advancing your personal and professional goals, elevating your UMD pride, and celebrating Terp traditions, legacies and accomplishments. For even more content, follow the Alumni Association on Facebook, Instagram and Twitter.