Home
About Us
News & Stories
Diversifying Your Skillset, with Senam Okpattah '20
Diversifying Your Skillset, with Senam Okpattah '20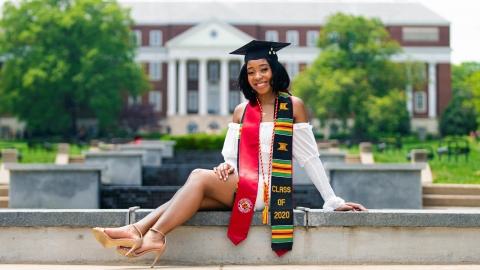 By: Spencer Friedman '22
This class of 2020 alumna loves dedicating her time to serving others, no matter what field or space she works in.
Why UMD?
Baltimore native Senam Okpattah '20 chose to attend the University of Maryland because of the great sense of community at the school. The school's prime location was close enough to her family, but far enough so she could lead an independent life when at college. The proximity to Washington, D.C. definitely helped her career endeavors as well.
What clubs and organizations were you involved in at UMD?
Okpattah was a student ambassador for the Scholars Public Leadership Program and the School of Public Policy. Additionally, a major part of her college experience was joining Alpha Kappa Alpha Sorority Inc. There she met some of her best friends for life. She promoted diversity and inclusion within the Student Government Association, and worked closely with administration and students to meet students' needs from all different backgrounds.
Have you picked up any new hobbies or interests since graduation?
Okpattah is planning to apply to law school in the near future, so studying for the LSAT is taking up a lot of her free time. She also spends time watching TV shows and reading when she's not working.
Where do you currently work, and what's your job title?
Working on Capitol Hill with the Select Subcommittee on the Coronavirus Crisis and the House of Representatives ensures that Okpattah never has a slow day of work. Day to day, she assists with overall operations including health and financial implications and vaccine administration for COVID-19. She has learned how the pandemic has affected so many people on so many different levels over the past year.
What's your advice for current and recently graduated terps?
Okpattah says, "Be open. This is vague, but it is so important to be willing to expose yourself to a variety of experiences academically, socially and professionally. Having a diverse set of skills helps you discover your passions. Don't be married to what you think you know."
###
This 20-part series highlights successful University of Maryland alumni from the Class of 2020. Are you a Class of 2020 graduate? Reach out to Jessica Lee (jlee1021@umd.edu) to learn more about getting involved with your Alumni Association. The Alumni Blog connects you with the latest at UMD. Check out articles on advancing your personal and professional goals, elevating your UMD pride, and celebrating Terp traditions, legacies and accomplishments. For even more content, follow the Alumni Association on Facebook, Instagram and Twitter.