Home
About Us
News & Stories
Doing Good with Obi Egekeze '08, '09
Doing Good with Obi Egekeze '08, '09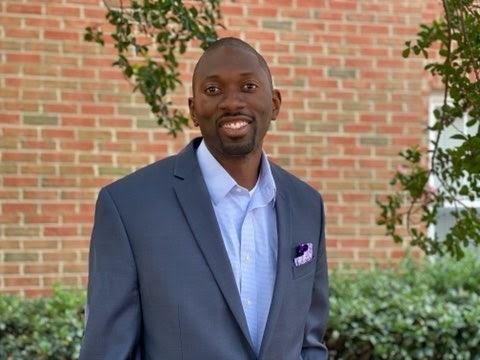 By Allison Eatough '97
As the nation's first Do Good campus, the University of Maryland aims to educate and inspire a Do Good generation of students to apply their education, skills and values to make an impact on the great societal challenges of our time. It is rooted in our land-grant mission of putting knowledge into practice for social and economic betterment. Click here to learn more.
Obi Egekeze '08, '09 didn't have much free time at UMD.
As a placekicker for the Maryland Terrapins football team and a business student earning two degrees, he spent most of his days between the field and Van Munching Hall.
But one day, thanks to his brother, he realized even star students and football players need an occasional timeout.
"My brother, who played basketball at Penn State, told me one of his good friends lost his dad to a rare form of kidney cancer," Egekeze recalled. "He wanted me to spend some time talking to him."
Always one to support his brother, Egekeze agreed. The friend, Scott Shirley, told Egekeze his father struggled to find treatment given his cancer was so rare. That's why in 2007, after his father's death, Shirley founded Uplifting Athletes. The nonprofit organization raises awareness and money for thousands of rare diseases through a network of college football student athletes.
Shirley's story moved Egekeze.
"I wanted to do whatever I could to help out and make an impact," Egekeze said. "(Shirley) said, 'All you've got to do is just listen. I guarantee somebody on your team, in your family or an alum has been impacted by a rare disease.'"
After officially launching a UMD Uplifting Athletes chapter in 2009, Egekeze began reaching out to teammates and football alumni to learn their experiences with rare diseases.
That's when he learned Boomer Esiason '84, former professional football quarterback, had a son with cystic fibrosis. To support the Boomer Esiason Foundation and raise awareness of cystic fibrosis, Egekeze organized the chapter's first event: A video game challenge, where college football athletes from across the country raised money by playing against each other online.
To date, the Uplifting Athletes' Maryland chapter has raised more than $67,000 in support of Esiason's charity and others.
While Egekeze graduated shortly after the chapter's first event, he remained involved with the organization. He returned for the chapter's second fundraiser, Lift for Life, in 2010. He launched another chapter while in graduate school at the University of Illinois at Urbana-Champaign to benefit acoustic neuroma. Then, he helped start Uplifting Athletes' Letterman's Club – a network of several hundred former chapter leaders and key members from more than 20 college football programs nationwide.
As president of the Letterman's Club, Egekeze continues to support rare disease awareness. The Charlotte resident participates regularly in Uplifting Athletes fundraisers and has helped raise thousands of dollars for rare disease research. And now as a finance manager for Lowe's, he said he has an additional platform to educate his co-workers about rare diseases.
"Just last week I did a presentation to about 100 people at Lowe's about Uplifting Athletes and rare diseases," he said. "What we're doing at Uplifting Athletes is really making a difference and changing lives. It's leaving a lasting impact for generations to come."
The organization has also left a lasting impact on Egekeze.
"Sometimes, when you're in school, you're so focused on one thing, or getting that right job, or joining that right fraternity or sorority," he said. "For me it was football. You could be so involved with that that you're not listening or in tune with what's happening around you. The ability to listen and invest some of your own time in other activities will always reward you in the end. Not only with the relationships you make through those opportunities but also what you'll learn."
"I've learned so much from being involved in this organization," he continued. "It's forever changed my life. And because it's changed my life, I will always look to help engage and push other people to do the same."
###
The Alumni Blog connects you with the latest at UMD. Check out articles on advancing your personal and professional goals, elevating your UMD pride, and celebrating Terp traditions, legacies and accomplishments. For even more content, follow the Alumni Association on Facebook, Instagram and Twitter.