Home
About Us
News & Stories
Emphasizing Mental Health, with Adam Ehrenberg '20
Emphasizing Mental Health, with Adam Ehrenberg '20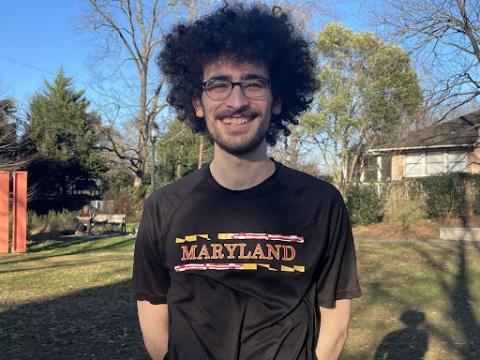 By Spencer Friedman '22
This class of 2020 alumnus chose to pursue his master's degree in College Park after attending Harvard for undergrad studies. He used his free time during the pandemic to volunteer with political issues that matter to him, and is continuing his studies as a Ph.D. candidate.
Why UMD?
Adam Ehrenberg '20, also a Harvard alumnus, is originally from Atlanta, Ga. When applying to master's programs in physics and quantum information, he felt that the University of Maryland provided him the best opportunities. He is also interested in politics, so being close to Washington, D.C. was meaningful for his future career aspirations.
What clubs and organizations were you part of at UMD?
Ultimate frisbee has always been one of Ehrenberg's biggest passions. He knew Maryland had a competitive team, and wanted to continue his frisbee play after playing four years as an undergrad. He played a few years at Maryland, and then returned as an assistant coach for the ultimate frisbee team until the pandemic halted team operations. He also found time for intramural soccer and basketball.
Mental health is something else Ehrenberg focuses on. In his time working towards a master's degree, he worked on a mental health survey,an effort by a few graduate students to analyze and present their results to UMD faculty.
What's your dream job?
Ehrenberg wants to combine his passion for science with his interest in government. He emphasized how important science and evidence-based policies are in government. Developing a job in the government surrounding mental health stigmatization would be amazing, according to Ehrenberg.
Where do you work and what's your job title?
After finishing his master's in June, Ehrenberg knew he had to take a break before starting his Ph.D. studies. He thought this year's elections were some of the most important in American history, especially living in Georgia. Volunteering with Jon Ossoff's campaign in the Georgia runoff was one of his most rewarding experiences. Ehrenberg interned with the finance team and researched the best strategies to find potential donors for campaign donations.
While Adam emphasized that there were countless people responsible for the efforts in the runoff, and he made just a small contribution, between volunteers, employees and everyone else, the strong group effort created a major impact in the end.
What advice do you have for current students and recently graduated Terps?
Ehrenberg says, "Don't be afraid to have open conversations with people and ask for things that you want. It can backfire, but being afraid of what the answer might be is worse than what the answer actually is."
####
This 20-part series highlights successful University of Maryland alumni from the Class of 2020. Are you a Class of 2020 graduate? Reach out to Jessica Lee (jlee1021@umd.edu) to learn more about getting involved with your Alumni Association. The Alumni Blog connects you with the latest at UMD. Check out articles on advancing your personal and professional goals, elevating your UMD pride, and celebrating Terp traditions, legacies and accomplishments. For even more content, follow the Alumni Association on Facebook, Instagram and Twitter.