Home
About Us
News & Stories
Focusing on Your Passions, with Matt Fan '20
Focusing on Your Passions, with Matt Fan '20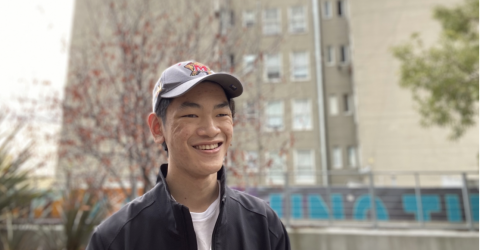 By Spencer Friedman '22
This class of 2020 alumnus is experiencing a new life on the West Coast. He is using his skills as an engineer to fuel some of his newly found hobbies.
Why UMD?
Matt Fan '20 stayed in-state to complete his mechanical engineering and computer science studies at the University of Maryland. Fan said the schools' strengths specific to his intended majors really stood out to him before committing to UMD (and receiving some financial aid didn't hurt either).
What clubs and organizations were you a part of at UMD?
As a student, Fan got involved with Startup Shell, a nonprofit organization composed of UMD students who are interested in start-up businesses. This was a great place for like-minded entrepreneurs to collaborate, according to Fan.
Where do you currently work, and what's your job title?
Currently living in San Francisco, Fan works as a Doordash labs software engineer. Day-to-day operations vary, Fan said, but he and his small team usually work on design planning and some hands-on operations.
He is also finalizing a personal project that combines two of his biggest interests: painting and robotics. Matt said he is almost finished building a real-life color paint mixing system. Essentially, the system scans a color and will mix paints to most nearly replicate that exact color.
Have you picked up any new hobbies or interests?
He spends most of his free time exploring his new city and adapting to his new lifestyle in California. Fan also paints in his free time, and builds robots after work.
What advice do you have for current or recently graduated Terps?
Fan recommends that Terps, "Focus on something you are passionate about. If you can't find a job right away, find ways to improve your skills."
###
This 20-part series highlights successful University of Maryland alumni from the Class of 2020. Are you a Class of 2020 graduate? Reach out to Jessica Lee (jlee1021@umd.edu) to learn more about getting involved with your Alumni Association. The Alumni Blog connects you with the latest at UMD. Check out articles on advancing your personal and professional goals, elevating your UMD pride, and celebrating Terp traditions, legacies and accomplishments. For even more content, follow the Alumni Association on Facebook, Instagram and Twitter.