Home
About Us
News & Stories
Friday Five: A Year In Pictures
Friday Five: A Year In Pictures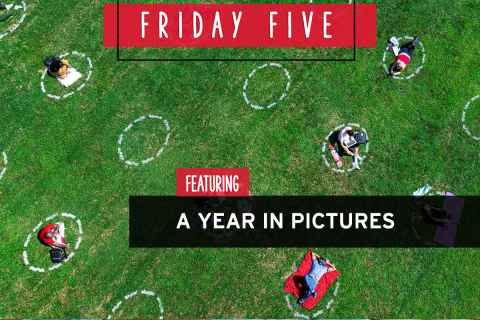 Welcome to the Friday Five, a roundup of the best your Alumni Association and other UMD communities have to offer. From the latest events to fun facts, here's essentials in five categories for you to check out this weekend.
The results are in: Terps love red wine.
TL;DR - Get Your Career In Check, A Photo Time Machine, Instagram Stories Friday Question
1. What's Happening
- CAREER WEEK - January 25-29
Steer, conquer and advance your career with a packed week of programming designed to
kickstart, revamp or supercharge your professional goals. REGISTER
- NEW YEAR, NEW YOU - January 20 and 27
Discover how to set and accomplish your own fitness and personal goals for 2021. REGISTER
- TERRAPIN LOVE WEEK - February 8-12
Celebrate love in all forms, from romance to self love, loving your career and bringing yourself through hardship. REGISTER
*Highlights: Virtual Wine Tasting | The Newlywed Game
2. Quotables

- Provost Rankin to Step Down
"Dr. Rankin spearheaded significant advancements in academic opportunities for students as well, establishing the First-Year Innovation & Research Experience (FIRE) that offers over 500 new students annually hands-on research experience. Her vision for student success opportunities also led to the reinvention of the university's Honors College." Maryland Today Staff, Maryland Today; Read More
- Seven Ways to Engage with Your Alumni Association
"Welcome to your one-stop shop for ways to engage with your Alumni Association." Alumni Blog; Read More
- Op/ed: What's Driving Trump's Foot Soldiers
"In the aftermath of the 2020 election, this general narrative was funneled into a specific—and false—accusation: that the establishment stole the election from Trump, the leader and hero of the extremist movement." Arie W. Kruglanski, Maryland Today; Read More
"2020 was a year defined by a pandemic, a national reckoning with racial injustice and a contentious presidential election. It was also a year that showed the University of Maryland community's resilience." SEE PHOTOS
-

Testudo Trivia - How Much Do You Know?
Of all the classic and historical buildings on campus, which is the oldest, and when was it built? Take a guess, and see the answer at the bottom of this post.
1. Morrill Hall, 1888
2. McKeldin Library, 1865
3. Tawes Hall, 1899
4. H.J Patterson Hall, 1871
- It's Friday - Red, Red Wine
It's official - 67% of InstaTerps prefer red wine (#fancy). Head on over to our Instagram Stories for our weekly Friday question.
4. Let's Get Social
5. Friendly Reminders
- Our New Quarter-Zip Sweatshirt Is Here
Cozy and warm - our new zip-up is yours FREE when you join the Alumni Association before March 31, 2021. Get access to member-exclusive programming, events, giveaways and swag, and more!
JOIN NOW
That's it for this week, Terps. Make sure to check back with us every Friday. Have a lovely weekend!
Trivia Answer: Morrill Hall, 1888
The Alumni Blog connects you with the latest at UMD. Check out articles on advancing your personal and professional goals, elevating your UMD pride, and celebrating Terp traditions, legacies and accomplishments. For even more content, follow the Alumni Association on Facebook, Instagram and Twitter.