Home
About Us
News & Stories
Head of the Class: Smith School Graduate De Armond '94 Guides Accounting Students into the Future
Head of the Class: Smith School Graduate De Armond '94 Guides Accounting Students into the Future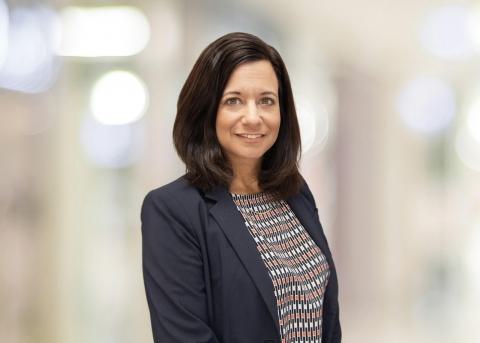 By Allison Eatough '97
When Laurie De Armond '94 arrived to speak as a guest lecturer at the Robert H. Smith School of Business in 2019, it wasn't her first time back at UMD since graduation.
The chair of the University of Maryland Alumni Association's finance committee and partner for accounting firm BDO frequently visits the campus for academic, social and recruiting events.
But it was her first time back in Professor Gary Bulmash's Principles of Accounting class – the same class (with the same instructor) she took as a sophomore majoring in accounting nearly 30 years ago.
"It was very surreal," De Armond said. "I love getting in front of students while they're still in school and hearing questions they have for me as I discuss my path from student to where I am now."
De Armond, a certified public accountant, started her career with BDO in 2001 as a senior manager specializing in nonprofit organizations and employee benefit plan audits. She became a partner in 2007 and then office managing partner in 2020, overseeing BDO's local recruiting and retention policies, employee training and business development.
"What drew me to this field was the logic and order of accounting, but that isn't what kept me in it," she said. "What kept me in the profession of public accounting and professional services is the diversity of skill sets that the profession allows you to use throughout your career. With each promotion and increasing level of responsibility, I've been able to have a career within a career. I started out learning the profession of being an auditor, and now, I'm running a business as the managing partner of a division."
De Armond also continued her guest lectures at UMD in 2020, albeit virtually due to the COVID-19 pandemic.
"It was very interesting to see how students' questions changed between 2019 and 2020," she said. "In 2019, they asked what they should major in and how it will help them in their career. In 2020, there were a lot of questions about the virtual interview process. Clearly, what's on their mind is how to stand out in this environment and get internship opportunities, which I can completely appreciate."
During her lectures, De Armond reassures students, explaining the critical thinking skills they learn as Terps will have long-lasting impacts.
"I tell the students, 'No class is going to prepare you for everything you're going to encounter in your professional life.' Those critical thinking skills that I learned at Maryland, the ability to question the information that's being given and presented to me, is very important. I almost think that's even more important now than it's ever been before."
Being back in the classroom and meeting fellow alumni through the University of Maryland Alumni Association has reaffirmed De Armond's support of UMD, she said.
"It's definitely opened my eyes to a lot of the inner workings of the university, and honestly, all of the wonderful things the university and alumni are doing. I have a much broader understanding of that now than I ever did before… It's been a great experience."
###
The Alumni Blog connects you with the latest at UMD. Check out articles on advancing your personal and professional goals, elevating your UMD pride, and celebrating Terp traditions, legacies and accomplishments. For even more content, follow the Alumni Association on Facebook, Instagram, Twitter, LinkedIn and YouTube. Become a UMD Champion to receive monthly shareable pride points, news and more straight to your inbox.