Home
About Us
News & Stories
How to Choose Your Path, with Noah Gross '20
How to Choose Your Path, with Noah Gross '20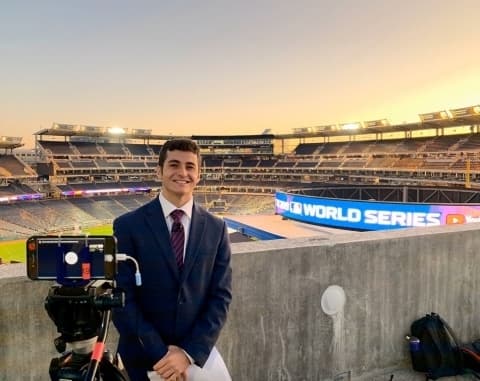 By Spencer Friedman '22
This class of 2020 alumnus was set on becoming a sports reporter coming into college. He gained experiences on campus that steered him in the right direction, and showed him what his profession would look like after graduation.
Why UMD?
Coming from a small farm town in the greater area of Cleveland, Ohio, Noah Gross '22 truly did not care where he attended college at first. He told his mother he wanted to study sports journalism and she found the three best schools to apply to for that program. He praised his mother for choosing UMD as one of the three, because he loved the campus when he toured.
What clubs and organizations were you involved in at UMD?
Gross loved the Philip Merrill College of Journalism because it was so easy to get involved early. He participated in so many great groups like Big Ten Network Student U, WMUC Sports and Maryland Baseball Network. The two organizations Gross said he benefited most from were Capital News Service (CNS) and Left Bench TV. He was a sports anchor for CNS his junior and senior years, where he gained experience on what it was like to be a full-time reporter, albeit at a smaller scale. With Left Bench TV, Gross served as the executive producer his sophomore year through graduation, overseeing and facilitating all reporters and covering the bigger games himself, including a notable 2018 football game against Ohio State..
Have you picked up any new hobbies or interests since graduation?
At the time the pandemic first hit, Gross had zero rhythmic bones in his body. However, he used his free time to learn the ukulele, which he said was much easier than he thought it would be. Additionally, he started binging popular shows he never had the time to watch including "The Wire", "The Sopranos", "Peaky Blinders" and more.
Where do you currently work, and what's your job title?
Gross now works as a weekend sports anchor and sports reporter for KTXS in Abilene, Tx. During the week, he reports on every level of sports in his region. Abilene Christian University's men's basketball team made the NCAA Tournament this year, so that was a great experience for Gross. He also covers feature stories and highlights for high school football, which he described as a focal point for the locals.
What's your advice for current and recently graduated terps?
"There's so many people at UMD that are making a big transition. Once you're comfortable on campus, you have to start getting involved because it helps you grow personally, build your resume and learn what you do and don't want to do." Gross said.
###
This 20-part series highlights successful University of Maryland alumni from the Class of 2020. Are you a Class of 2020 graduate? Reach out to Jessica Lee (jlee1021@umd.edu) to learn more about getting involved with your Alumni Association. The Alumni Blog connects you with the latest at UMD. Check out articles on advancing your personal and professional goals, elevating your UMD pride, and celebrating Terp traditions, legacies and accomplishments. For even more content, follow the Alumni Association on Facebook, Instagram and Twitter.