Home
About Us
News & Stories
Joy is Not Canceled: Reimagining the Riggs Alumni Center at 15
Joy is Not Canceled: Reimagining the Riggs Alumni Center at 15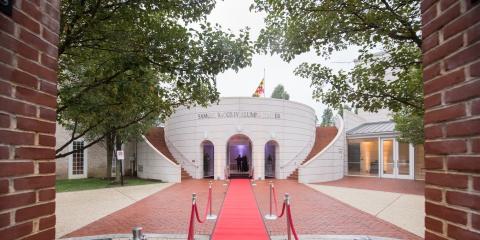 By Kimberly Marselas '00
In the spring of 2005, the Samuel Riggs IV Alumni Center opened to much fanfare, its gleaming white rotunda and classic brick pavers a monument to both the University of Maryland's roots and the rise of its academic and cultural reputation.
Fifteen years on, Riggs continues to be a vibrant gathering spot for alumni and non-alumni alike.
"It's a stunning space," said Casey Gomes '02. "I look at some of the pictures from our wedding — the white Italian marble, the light spilling in from the gardens — and I can't help but think of how perfect everything was."
Gomes and his wife, Remy Shaffer Gomes '00, were the first couple to hold a reception at Riggs after winning a Dream Wedding contest in 2004. Today, the Baltimore County residents return to campus often, posing for fresh pictures at Riggs and reminiscing with their two children.
"The memories from that day are just over the top," Shaffer Gomes said. "Riggs gave us the most beautiful start. It was an auspicious beginning."
While the COVID-19 pandemic limited events for much of 2020, Riggs is once again hosting and booking events with careful consideration of social distancing and other mitigation efforts.
The University of Maryland Alumni Association is also launching a campaign to Reimagine Riggs, offering new event packages and uses that take advantage of flexible space inside and outside the building. And, for the first time, half-day rates are available.
Riggs could be the backdrop for a special instructional gathering via videoconference, a set for an outdoor yoga class or the large space you need for a small and safe graduation ceremony.
Think lecture hall by day, disco balls by night.
"That's the beauty of Riggs: It can transform into any space you imagine," said Rhonda Whyte, director of sales and marketing. "It can be whatever you need it to be, and it's just full of joy and connection."
When Riggs opened, architect Hugh Newell Jacobsen '51, '93 (honorary doctorate), called special attention to the Alumni Hall's "temple-like quality," the bank of offices reminiscent of Baltimore rowhouses and the inspiring but then-young Moxley gardens.
Today, all of that and more draws thousands of visitors annually.
They come for wedding celebrations — an estimated 1,300 so far — but also for game-day festivities, fundraising galas, smaller academic gatherings and other events that showcase the best Maryland has to offer.
The building itself has become part of Maryland's story, host to such high-profile events as a celebration of Nobel Prize winner Thomas Schelling and the Alumni Association's Maryland Awards, an annual celebration of Terps.
On May 15, Kareena Mims '10 and Recarlo Applewhite '12 will add another chapter when they join the previous 550 alumni couples who have celebrated their nuptials at Riggs. After a ceremony at Memorial Chapel, the couple plans to walk across campus with a Terp-filled bridal party, stopping for iconic photos before arriving at Riggs where they'll pause for a special moment under the ocular.
They have booked two-thirds of the Riggs ballroom for their special day but have the option to open an adjoining wall for more space should COVID-19 still be a concern. They also expect to serve hor d'oeuvres and cocktails in the garden as 100 guests play lawn games before a seated dinner.
"The versatility of the space was so important," Mims said. "It sealed the deal for us."
Mims said she has been especially pleased with the service provided by Riggs' staff during the pandemic, whether they're sharing information on COVID-19 precautions such as revised foot traffic patterns and increased sanitation or connecting the couple with a pre-approved list of quality vendors.
"We have so much Maryland pride," said Mims, who was introduced to her fiance by a fellow Terp. "To know we're being taken care of, especially now that COVID is here, it really matters."
To that end, Riggs is offering more intimate wedding packages for the foreseeable future. "The You & Me Wedding" packages accommodate 20-35 guests in one of four outdoor spaces and include prep rooms, an officiant and a champagne toast. Riggs has also added a video streaming option allowing couples to share the moment with those who can't attend.
Whyte is coordinating virtual tours for those interested in seeing the space — including furniture and design updates throughout — before booking.
"We have plenty of options where people can social distance and feel safe," she said.
For more information, call 301-405-9756 or visit us online at riggs.umd.edu/about/contact-us to host your event.
###
The Alumni Blog connects you with the latest at UMD. Check out articles on advancing your personal and professional goals, elevating your UMD pride, and celebrating Terp traditions, legacies and accomplishments. For even more content, follow the Alumni Association on Facebook, Instagram and Twitter.