Home
About Us
News & Stories
Love by the Book
Love by the Book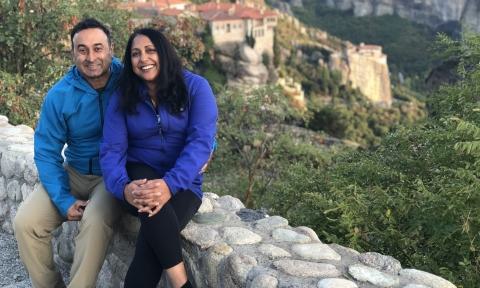 By Andrew Faught
It started with a laugh.
Pramod Raheja '91 was studying in UMD's engineering library when peals of laughter rolled to his ears from the stacks. He ignored them at first, but then he heard laughter again multiple times in the weeks ahead. Frustrated, he decided to find the source.
"There were no noise-cancelling headsets or any of that stuff then," Pramod says. "They were loud, and I had to see who was making that laugh."
His frustrations evaporated when Pramod came face-to-face with the sound: It was Preeti Raheja '92, a fellow engineering major.
"I was, like, 'Oh, she's got a nice smile,'" he remembers. But it wasn't clear then that the two would have a future beyond the moment.
Pramod decided he wanted to meet Preeti, and he found mutual friends ("this is all without LinkedIn or Facebook," he notes) who scheduled a group lunch. Pramod and Preeti enjoyed a cordial get-together, and they'd continue to encounter each other and chat over the course of the semester. But with graduation nearing, Pramod decided to take immediate action: he asked Preeti on a date. She said yes. They met for pizza at Ratsie's and went miniature golfing.
Today, after 26 years of marriage, Preeti laughs at the memories. But this time, Pramod laughs with her.
"He's a very persistent person," Preeti says. "When he wants something, he will go after it and not take no for an answer. He came into my life at the right time. I noticed this positive aura about him, and I could tell he had a very good heart."
The pair dated for four years before getting married. "We were in sync and related on so many levels," Preeti says. Both are first-generation Indian Americans who grew up in Maryland.
Today, Pramod and Preeti live in Potomac Falls, Virginia, and they're the parents of two sons, both of whom attend Virginia Tech. Pramod is co-founder and CEO of Airgility, an artificial intelligence and robotics company that manufactures drones based in UMD's Discovery District. He started the business four years ago, and this year he was feted with the university's Alumni Excellence EnTERPreneur Award. Preeti, after spending more than two decades in the telecommunications industry, is now s a functional health coach, helping women in midlife holistically manage chronic disease and managing stress and hormone health.
In the meantime, they're both romantics at heart. In 1999, Pramod surprised Preeti with a trip to Paris. She called the time together "magical" and "one of the best Valentine's Days I can remember."
As for keeping their marriage vibrant, the Rahejas enjoy the outdoors, spending time skiing, hiking, bicycling, playing tennis and going on scuba diving excursions.
"We're very intentional about doing things that we both enjoy," Preeti says. "Connection is important, so we foster that through common activities."
###
The Alumni Blog connects you with the latest at UMD. Check out articles on advancing your personal and professional goals, elevating your UMD pride, and celebrating Terp traditions, legacies and accomplishments. For even more content, follow the Alumni Association on
Facebook
,
Instagram
,
Twitter
,
LinkedIn
and
YouTube
. Become a
UMD Champion
to receive monthly shareable pride points, news and more straight to your inbox.