Home
About Us
News & Stories
Making Meaningful Connections, with Rachel Edsall '20
Making Meaningful Connections, with Rachel Edsall '20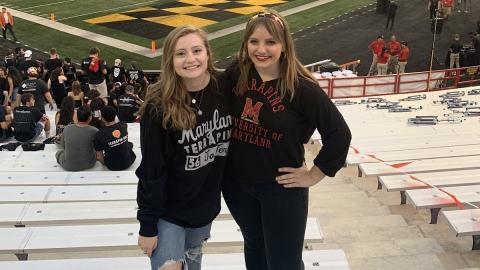 By Spencer Friedman '22
A global pandemic created a unique work experience for this 2020 University of Maryland grad. As a public health major, she knows her role is increasingly vital each day, so she is pursuing a master's degree in epidemiology.
Why UMD?
Rachel Edsall '20 came to the University of Maryland from a high school "in the middle of nowhere." Advancing from far-flung Fallston High School in Hartford County, MD, to the UMD was a nice change of pace for the med school hopeful. After attending a small high school, Edsall said the nicest thing about college was that people were so excited to be on campus.
What clubs and organizations were you involved in at UMD?
The thing that excited Edsall most during her time at UMD were the recreation centers. "I basically lived at Eppley," she said. Working as a personal trainer and fitness instructor from 7 a.m. - 9 p.m. provided Edsall with great experience in the public health field. Despite her full schedule, she went on to earn her undergraduate degree in just three years.
Where do you currently work, and what's your job title?
While the country struggled with job losses in the summer of 2020, public health workers were (and still are) in high demand. After graduating, Edsall started her career by conducting COVID-19 contact tracing for the Virginia Department of Health, focusing on school and workplace exposures. In addition to her job, she is now pursuing a master's degree in epidemiology at George Washington University.
What is your advice for current students/recently graduated Terps?
Edsall says, "Just work really hard getting your name out there to make meaningful connections. It can be as small of a connection as, 'Hey we had a similar class together, let's talk some time.'"
###
This 20-part series highlights successful University of Maryland alumni from the Class of 2020. Are you a Class of 2020 graduate? Reach out to Jessica Lee (jlee1021@umd.edu) to learn more about getting involved with your Alumni Association. The Alumni Blog connects you with the latest at UMD. Check out articles on advancing your personal and professional goals, elevating your UMD pride, and celebrating Terp traditions, legacies and accomplishments. For even more content, follow the Alumni Association on Facebook, Instagram and Twitter.