Home
About Us
News & Stories
Maryland Pride with Jake Amster '20
Maryland Pride with Jake Amster '20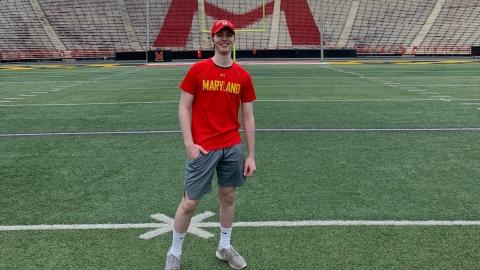 By Spencer Friedman '22
This class of 2020 alumnus used his college years to step outside his comfort zone, and is forever thankful for his four years at the University of Maryland. He encapsulates what it means to be a Terp.
Why UMD?
Jake Amster '20 comes from a small high school in Westchester County, New York. He knew every one of his peers' names. During his college search, Amster wanted to do a "full 180" by attending a larger school with a different atmosphere, challenging his comfort zone. Coming into College Park, he only knew one other person and genuinely felt like he was independent for the first time in his life. He used this opportunity to branch out and meet people of all different backgrounds. "The rest is history," he said.
What clubs and organizations were you involved in at UMD?
Amster most benefited from his greek life organization, the fraternity Zeta Beta Tau, where he served as the communications director on the executive board. In this role, he was responsible for sending messages about fraternity events to a group of 100+ people in the clearest way possible. Amster said he learned interpersonal skills and how to get his point across effectively, which have both translated to the professional world.
Have you picked up any new hobbies or interests since graduation?
Golf gained popularity during the pandemic because it was one of the first recreational activities that people could socially distance in. Amster picked up this sport recently, and says he has so much to learn and practice. He describes golf as a great sport because of its longevity, but also because it is a great way to network professionally. "You can have key conversations on the course while still having fun," he said.
Where do you currently work, and what's your job title?
Amster is a business technology analyst at Information Services Group (ISG), which is an advisory firm in the IT space. He was supposed to be a traveling consultant, so working in an online environment has saved him a lot of time on the road. Amster has been part of the same team for nearly eight months as a project manager for an insurance and banking firm.
What advice do you have for any current students or recently graduated Terps?
"Utilize the Maryland network to your advantage," Amster recommends. " Maryland pride is a real thing. Terps want to help other terps out. They shared so many similar experiences as you… maybe they lived in the same dorm as you. Those are the genuine relationships that I personally love," he added.
###
This 20-part series highlights successful University of Maryland alumni from the Class of 2020. Are you a Class of 2020 graduate? Reach out to Jessica Lee (jlee1021@umd.edu) to learn more about getting involved with your Alumni Association. The Alumni Blog connects you with the latest at UMD. Check out articles on advancing your personal and professional goals, elevating your UMD pride, and celebrating Terp traditions, legacies and accomplishments. For even more content, follow the Alumni Association on Facebook, Instagram and Twitter.