Home
About Us
News & Stories
Member Spotlight: Ceylon Mitchell '16
Member Spotlight: Ceylon Mitchell '16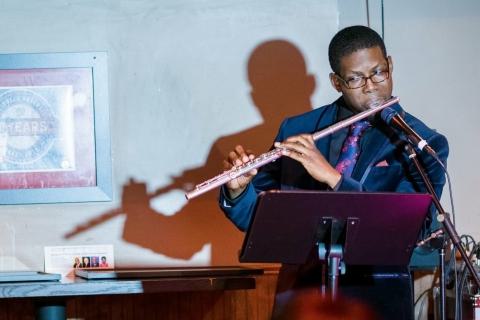 When Ceylon Mitchell M.M.'16 first came to the University of Maryland for graduate school, he arrived with a strong passion for music. During his time at UMD, he gained something more — a love of multimedia production. Now, he has combined his passions to create M3 | Music Media, which provides personalized multimedia services to musicians.

"M3 means music, media and marketing," Mitchell explains. "The small business allows me, as a musician, to help musicians and music institutions leverage the power of digital media to promote their stories and amplify their brands."

He started M3 while a student in the multimedia certificate program at the Philip Merrill College of Journalism. Mitchell developed the idea in his media entrepreneurship class and has since grown it into a full business.

"As an artist-entrepreneur, I educate, mentor and prepare my fellow musicians for success in a 21st century landscape through digital marketing channels, especially social media," Mitchell explains. "I help them engage their tribe, expand their reach and relationships and inspire others through authentic content shared from an artist's unique perspective."

Mitchell's own story as a musician began at a young age, as he grew up in the supportive and vibrant music community of Anchorage, AK. He developed an appreciation and passion for arts education, achieving selections in the Alaska All-State music ensembles, the Young Alaskan Artist Award competition and the Alaska Youth Orchestras, which will bring Mitchell back home as the featured soloist for its 2018 Fall Concert. His passion for music eventually led him to pursue his bachelor's degree in music performance at Boston University and, ultimately, to the University of Maryland, College Park. After receiving his master's degree in Music Performance at UMD, Mitchell worked as staff in the Office of Community Engagement through 2017.

"Maryland gave me the tools, network and opportunities to carve my own path," Mitchell says. "I take the skills that I gained and improved upon in the School of Music and College of Journalism out into the local arts community."

Now, Mitchell works as the Director of Marketing and Communications with the Boulanger Initiative, an organization co-founded by fellow Terp Dr. Laura Colgate DMA '18. The Boulanger Initiative promotes music composed by women through performance, education and commission activities.

Mitchell is an active performer, educator and advocate in the Washington D.C. metropolitan area, where he teaches as the flute choir director with the Potomac Valley Youth Orchestra, performs with fellow Terps as co-founder and flutist of the Potomac Winds chamber music ensemble and serves as a member in numerous arts organizations.: the Arts Administrators of Color DMV, Coalition for African Americans in the Performing Arts, Emerging Arts Leaders DC (EALDC) and the Maryland Citizens for the Arts Emerging Arts Advocates (EAA).

Earlier this year Mitchell received a 2018 Prince George's County Forty Under 40 Award in Arts & Humanities. Recently, he helped plan, promote and present at the District New Music Coalition's inaugural New Music DC Conference in September.

As a Lifetime Member of the Alumni Association, Mitchell hopes to help bring the future of the arts to the university. Mitchell says that for him, this means "keeping classical music alive, authentic and accessible."

"I want to see the arts community continue to thrive and be on the forefront of innovation and collaboration," Mitchell says. "I support it to make sure that creative voices are heard in an equitable manner and that we see Maryland continue to build relationships in the community with new and diverse audiences at the center."

Photo credit: Catrilla Watson, Coalition for African Americans in the Performing Arts (CAAPA).
###
The Alumni Blog connects you with the latest at UMD. Check out articles on advancing your personal and professional goals, elevating your UMD pride, and celebrating Terp traditions, legacies and accomplishments. For even more content, follow the Alumni Association on Facebook, Instagram and Twitter.