Home
About Us
News & Stories
Member Spotlight: Mark Johnson '78
Member Spotlight: Mark Johnson '78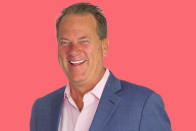 By Samantha Weissberg '20
Shortly after graduating from Maryland with his degree in Public Health, Mark Johnson '78 learned that Terp connections are never far. As a young professional in the business and sales world, he ran into a fellow graduate, which led him to his next venture. Then, he found out that a fraternity brother ran the local office.

"I would never have made those connections if I didn't go to University of Maryland or join my fraternity," says Johnson. "That's how I got started."

Johnson is currently the CEO of Prism Inc. He helps government agencies and commercial businesses in the Information Technology consulting service. Recently, the Northern Virginia Technology Council and the Virginia Employment Initiative recognized Prism for its work hiring veterans.

"That is something that is very close and dear to us," Johnson says.
Also important to Johnson, he says, is staying connected to his alma mater.

"I was involved with the Smith School of Business and acted as a mentor to MBA candidates," Johnson says. "I also go back to my fraternity a couple times a year to offer advice and run career job panels."

Recently, Johnson decided to take his involvement with the university to the next level. He became a board member of the Northern Virginia Network. One of his priorities is to network recent Maryland graduates and keep alumni connected. His team hosts game watches, tailgates, crab feasts, happy hours, philanthropic events and more.

He got involved for networking reasons, but also to build social relationships.

"I belong to the Executive Dining Club which consists of graduates and supporters of The University of Maryland. We have dinner three times per year to celebrate our commitment to The Terps" Johnson says.

One piece of advice that Johnson has for fellow Maryland alumni and students is to try and use social media less, and create more personal relationships. Social media is a great tool to find people, he says, but make sure to meet people in person to develop lasting connections.

"Maryland has been very good to me and allowed me to gain great opportunities and develop wonderful relationships," Johnson says. "I have always tried to give back to the University of Maryland because it gave so much to me."
###
The Alumni Blog connects you with the latest at UMD. Check out articles on advancing your personal and professional goals, elevating your UMD pride, and celebrating Terp traditions, legacies and accomplishments. For even more content, follow the Alumni Association on Facebook, Instagram and Twitter.