Home
About Us
News & Stories
Research Award: Autumn Griffin Ph.D. '20
Research Award: Autumn Griffin Ph.D. '20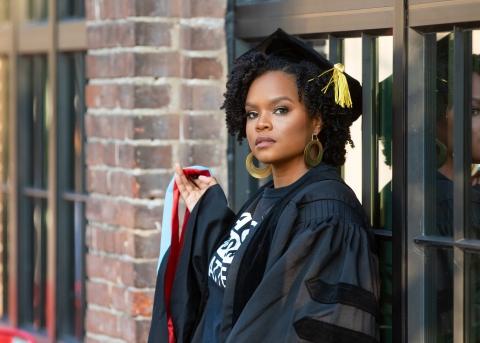 By Allison Eatough '97

In 2016, graduate student Autumn Griffin and her friend and mentor, Tiffany Lee, launched a blog to explore the issues they faced as Black women in academia.

Today, that blog has grown into Blackademia, an entire digital network dedicated to sharing and celebrating the stories of people of color in academic spaces. Blackademia's blog posts, podcasts and book clubs touch on everything from antiracist teaching and the disproportionate suspension rates of Black girls to student loan debt and the job market.

"Right now, our major focuses are the book chats and podcasts," said Griffin, a winner of this year's Research Award. "We're doing those things well to engage with (our audience), to inform them on some of the history of Black folks in educational spaces, in particular Black women, and then also to be able to have conversations about texts that don't appear on syllabi often."

As a teen, Griffin never pictured herself as a teacher, let alone the co-founder of a site dedicated to Black women in academia. When it came time for college, she applied as an education major, only because her mother asked her to.

"I remember her saying, 'You should be a teacher,'" Griffin recalled. "I was like, 'No, why would I teach?' I got my acceptance to Penn State and immediately called them and said, 'Can I change my major to English?'"

Griffin double majored in English and African and African American studies. During the summer of her sophomore year, she learned about what was then called the achievement gap for children of Black immigrants. This prompted her to reconsider teaching.

"I really wanted to go into education policy," she said. "Then I realized that there are very few policymakers who ever get in the classroom, which is why we see some of the dumpster fires that we see today."

For three years, she taught middle schoolers reading and language arts in Atlanta then in 2016 became a doctoral student in UMD's Teaching, Learning, Policy and Leadership program.
With each experience, she and Lee gained more material for Blackademia.

"Whether it was (Lee) an administrator or a staff member at a university, or me as teacher or grad student, or now, we were always very aware of both our race and gender and how they were perceived in these spaces," Griffin said. "We're also simultaneously very curious about the history of Black women in these spaces."

Now a postdoctoral research fellow at the University of Pennsylvania, Griffin is studying how teachers are adapting to incorporate technology in the classroom.

"I want to do really impactful work, particularly around Black girls and digital learners," she said. "Like putting computers, iPads and other technology in their hands and just watching all of the really creative and important work they're able to do with it."

Steve Fetter, associate provost and dean of the Graduate School, said based on Griffin's track record, he is confident she'll make it happen.

"Autumn Griffin put her research into action early in her career, and it paid dividends in her scholarship and in Blackademia, a thriving digital community that provides a critical online space for conversations and celebrations of the accomplishments of Black scholars," he said. "I look forward to following her progress and accomplishments as a postdoc."
---
University of Maryland graduates are among the best and brightest in their fields. From scholars and innovators to entrepreneurs, teachers and researchers, our alumni are leaving their mark in our state, nation and the world. The Alumni Excellence Awards provide an opportunity to recognize the accomplishments of select Terps, and honor these recipients with distinction. Careful consideration was made in selecting our 2021 recipients across four categories: Rising Terp Award, Research Award, EnTERPrenuer Award and Legacy Award.

The Research Award honors an alumnus/a whose research has made a significant impact on the university, the state and/or the nation. Up to three Research Awards will be granted annually, celebrating a Terp/s whose research is transformational.