Home
About Us
News & Stories
Rising Terp Award: Sahil Rahman '12 and Rahul Vinod '11
Rising Terp Award: Sahil Rahman '12 and Rahul Vinod '11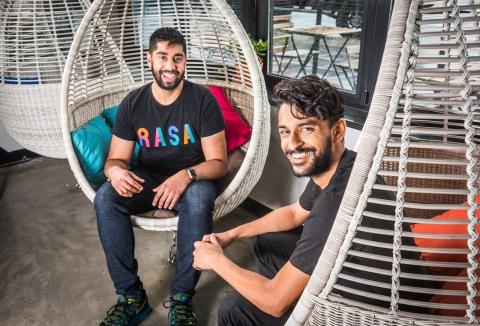 By Allison Eatough '97

Lifelong friends Sahil Rahman and Rahul Vinod said they opened RASA, an Indian fast-casual eatery, to make Indian food more accessible and to be a "bright spot" in people's days.
Little did they know just how bright that spot would become for schoolchildren, health care providers and fellow restaurant workers in spring 2020, when the COVID-19 pandemic hit Washington D.C.
Rahman and Vinod grew up in the restaurant industry, watching their fathers, Surfy Rahman and K.N. Vinod, run their own restaurants in the District. They also witnessed the rise of fast-casual brands like Chipotle and Cava. So in high school, they hatched a plan to create a similar concept for Indian food.
The business majors opened their first location in 2017 in the Navy Yard and a second in 2020 in Mount Vernon Triangle. With dishes like Tikka Chance on Me, Open Sesame and Aloo Need Is Love, Rahman and Vinod were introducing people to the traditional Indian flavors they grew up with and loved.
But everything stopped in March, when restaurants across D.C. shut down their dining rooms. Instead of running RASA's day-to-day operations, the two were now contemplating ways to support their community.
"We asked ourselves, 'What can we do with what we have?'" recalled Rahman.
RASA became one of the first local restaurants to partner with the World Central Kitchen to provide free meals to people and professionals in need.
"Through that program, we were able to provide thousands and thousands of meals to not only medical workers and schoolchildren but also elderly communities and at-risk populations for food insecurity," Rahman said. "It was an incredible partnership. Not only did it feel good, it also allowed us to keep all of our staff during that time."
But their giving spirit didn't stop there. Rahman and Vinod also partnered with others like JBG Smith and former Terp and professional football player Vernon Davis to feed restaurant workers and rideshare drivers in the region impacted by the pandemic. As of last fall, they had raised more than $70,000 and helped feed more than 20,000 people.
In recognition of their business and community efforts, the University of Maryland Alumni Association named Rahman and Vinod as winners of this year's
Rising Terp Award
.
"Sahil and Rahul grew their business around their passion for sharing Indian cuisine and culture with their local D.C. community," said Kaitlin Walukonis '12, alumni relations coordinator for the Robert H. Smith School of Business. "Once the pandemic hit the D.C. area, they put their community above all else. They are beyond deserving of the Rising Terp Award!"
As for the future, Rahman and Vinod said they look forward to opening a third location, and to continue being "ambassadors for the Indian cuisine."
"We really think that food can bring different people together from different cultures and backgrounds," Vinod said.
"And now that we're in a position where that's what we're doing on the daily, it's been a very special experience," added Rahman.
---
University of Maryland graduates are among the best and brightest in their fields. From scholars and innovators to entrepreneurs, teachers and researchers, our alumni are leaving their mark in our state, nation and the world. The Alumni Excellence Awards provide an opportunity to recognize the accomplishments of select Terps, and honor these recipients with distinction. Careful consideration was made in selecting our 2021 recipients across four categories: Rising Terp Award, Research Award, EnTERPrenuer Award and Legacy Award.

The Rising Terp Award honors an alumnus/a under 30 years old who has distinguished themselves personally and professionally. Up to three Rising Terp Awards will be granted annually, celebrating a Terp/s who excel in their career and inspire the next generation of Terp leaders.