Home
About Us
News & Stories
Stepping Outside Your Comfort Zone, with Jacqueline (Jacq) Deprey '20
Stepping Outside Your Comfort Zone, with Jacqueline (Jacq) Deprey '20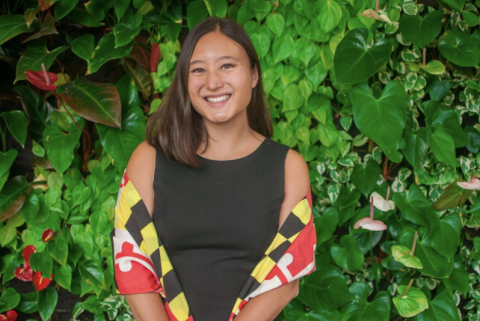 By: Spencer Friedman '22
This class of 2020 alumna's UMD connections are still growing after graduating. She recently found a unique way to commemorate some of her favorite memories as a Terp.
Why UMD?
Jacqueline Deprey '20 of Rockville, MD chose the University of Maryland because the school has "The best of everything." The big campus provided Deprey with various opportunities (in various areas) to help her find her niche. Being close to Washington, D.C. gave her a city experience, while maintaining the campus feel. Additionally, Deprey said she appreciated UMD being a top research institution, and that the Alumni Association offered internship opportunities.
What clubs and organizations were you part of at UMD?
Deprey and her friends found Maryland Survivor to be tons of fun. She participated in the student-run reenactment of popular television series Survivor, where contestants compete to outlast each other on a tropical island for a month, twice as a contestant, and twice impersonating Jeff Probst as host of UMD's version of the reality show.
Deprey also participated in the Gemstone Honors Program and the QUEST Honors Program, which both helped her angle her career aspirations in the right direction. "I'm an indecisive person, so both of these programs really helped me," she said.
Since graduating, have you picked up any hobbies or interests?
Deprey used her free time after graduating to commemorate her four years into one memorable item. She just finished constructing a king-size quilt consisting of all of the free Maryland t-shirts she collected throughout her time as a student.
"I just wanted a way to preserve all those memories," she said.
Where do you currently work and what's your job title?
Deprey works as a software engineer at Dropbox, where she says her UMD connections keep growing, with plenty of Maryland alumni who help her with her job and make the online work environment just a bit easier.
Essentially, Deprey programs Dropbox to be a better experience for its customers by making changes on the backend that empathize with its users. It may be difficult for many companies to establish a friendly work environment in 2021, but she says her coworkers are personable online, and everyone keeps their cameras on during Zoom calls.
What is your advice for current or recently graduated Terps?
"Never be afraid to put yourself out there. Take any chance you can. I'm introverted, but every time I spoke up about something I was passionate about, I don't think I have ever regretted it," Deprey shared, "It's natural to be uncomfortable, but this can lead to making a new, impactful connection."
###
This 20-part series highlights successful University of Maryland alumni from the Class of 2020. Are you a Class of 2020 graduate? Reach out to Jessica Lee (jlee1021@umd.edu) to learn more about getting involved with your Alumni Association. The Alumni Blog connects you with the latest at UMD. Check out articles on advancing your personal and professional goals, elevating your UMD pride, and celebrating Terp traditions, legacies and accomplishments. For even more content, follow the Alumni Association on Facebook, Instagram and Twitter.