Home
About Us
News & Stories
Terp Insights: I Did It All, Just Not All At Once
Terp Insights: I Did It All, Just Not All At Once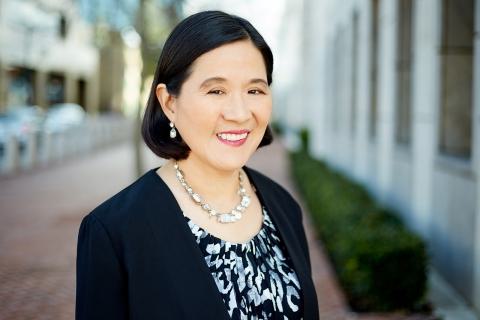 By Charlotte Wang Wagner '90
It's hard to believe it's been 30 years! I graduated from the University of Maryland in December of 1990 with a BS in Mechanical Engineering. The engineering education I received continues to benefit me today. I have had a successful career in the energy efficiency and building automation fields, as both an engineer and a leader.
Engineering students often wonder, "Am I going to use this specific material in my profession?" The answer is yes and no. While I can cite specific knowledge I learned in my engineering studies as a practicing engineer, more importantly is that I was taught to think objectively and solve problems. I often apply an engineering thought process, even to personnel and human interaction situations.
My advice to engineers (in particular, women) is that you can do it all, just not all at once. I have done everything I wanted to do, just sequentially instead of simultaneously. The 30 years since graduation can be divided into three main roles (13.5 + 3 + 13.5 = 30, spoken like a true engineer).
Project Engineer and Project Manager:
I performed energy audits of commercial buildings, identifying energy efficiency measures; designed the hardware and software of building automation systems; and project managed construction projects in the performance contracting field (1991 – mid 2004, 13.5 years).

Stay at Home Mom:
I stayed home with my son for the first 3 years of his life, an experience I will always value and treasure. He is now 16 and we still have a special bond today, which formed during these years (mid 2004 – mid 2007, 3 years).

Leadership Roles as a Division Manager, Director, Senior Director, Managing Director and General Manager:
I've developed and led several teams in the energy efficiency, energy software and building automation fields. I now lead the Southern California branch, building automation at Schneider Electric. I oversee the profit and loss of all aspects of the branch including sales, service and operations. It's my dream job- finally a chance to showcase my leadership and ability to build high performing teams in a technical space. My true love is to empower my team to do their work, rather than do the work myself (mid 2007 - present, 13.5+ years).
My experience at the University of Maryland gave me a great foundation for all of these roles. Go Terps!
Charlotte Wagner has over 27 years of experience in the building energy efficiency industry, currently serving at the executive management level developing cohesive teams. Ms. Wagner is currently the General Manager, Southern California Branch, Schneider Electric, US Digital Buildings. Her certifications include the P.E., LEED AP BD+C, CEM, and CA General Contractor's A license. She has been involved in the Society of Women Engineers (SWE) for over 30 years as a Life Member, Fellow, and Distinguished Service Award recipient. She is currently the co-lead of SWE's Late Career and Retiree affinity group, which she helped to found. Ms. Wagner is a Board Member and Mentor Committee Chair of the Council on Women in Energy and Environmental Leadership (CWEEL) of Association of Energy Engineers (AEE).
###
Elevate the value of your degree and advance your goals - read from successful Terps for crucial insights on career advice, professional development and more. Are you an expert? We'd love to hear from you. Reach out to Christine Kunkel with your story.
Interested in keeping up with the latest career-based insights? Join our Career Tips for Terps Newsletter.