Home
About Us
News & Stories
Terp Insights: Lifelong Health, Fitness and Terp Pride
Terp Insights: Lifelong Health, Fitness and Terp Pride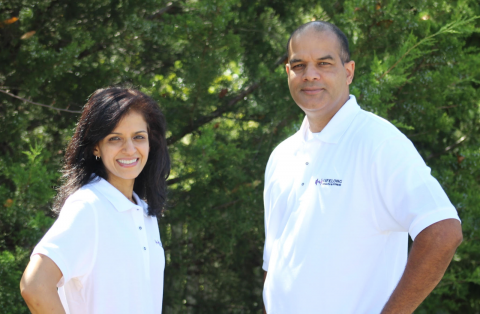 By Cara Folk
After a family health scare, Alka Bhave '96 and Bhaskar Bhave '01 decided to turn a passion project into reality by launching their nonprofit, Lifelong Health & Fitness. Their mission is simple: to raise awareness and provide in the areas of exercise, nutrition, and overall well-being. Alka and Bhaskar connected with the University of Maryland Alumni Association to discuss the challenges and successes of entrepreneurship in the nonprofit world.
Alka is a certified PiYo instructor and will be hosting a virtual workout on September 26, 2020 at 9am ET for the Terp Community. Sign up today.
What inspired you to create Lifelong Health & Fitness and what continues to inspire you today?
Alka: Exercise was always important to me, and when I met Bhaskar that was something that brought us closer together. I ran my first 5k with him! However many years later, as I was recovering from a complex surgery, I really realized the connection between physical fitness, nutrition and wellness. I wanted to share the learnings from my journey with others and provide a resource to help raise awareness.
Bhaskar: Alka and I actually met on a hike in Yosemite, so fitness brought us together. Getting out and exploring the world, trying out new, healthy recipes and helping our friends gain control of their health are activities we've always done together. I commute and run errands on my bike. I want to help others find ways to incorporate fitness and healthier living into their daily lives.
What was the most surprising thing or biggest learning curve you encountered when launching your business?
Alka: There is a lot of work to start up any business, but a non-profit has its own challenges. Fundraising is an important element of the impact that we're able to make. So many want to support good causes, but convincing people to support your good cause is the tough part! Finding volunteers to help is another challenge. We donate 100% of proceeds raised and rely on support from those that just want to "Do Good" for their communities.
Bhaskar: Making tutorial videos is much harder than it looks. There's a lot of shooting, editing and retakes that go into making an "okay" video to post on Youtube.
How has UMD played a role in your lives, both personally and professionally?
Alka: My academic and social experiences while at UMD were so positive. I strongly believe those experiences instilled the confidence and growth mindset that I carried throughout my adult life.
Bhaskar: At UMD, I experienced a nice balance between learning and staying active. Having a self contained campus with many gyms and nearby running and cycling trails was a great benefit. I really grew as a person and while at UMD.
What advice do you have for fellow Terps who are thinking about starting a business?
Bhaskar: Starting a business is hard and lonely work. Your friends and family may not understand why you're starting the business and may not even support you in your quest. Be sure to start a business in something you are passionate about. Only one in 100 startups remain in business beyond their first year, and an even fewer number actually continue to stay in business beyond the first five years. Starting a business cannot be just about making money. If you're passionate about the work, you'll encounter challenges instead of setbacks, and learning opportunities instead of failures. Being excited about the work and the mission of the business helps you maintain a positive outlook for the challenging journey of starting and growing a business.
Alka and Bhaskar Bhave are executive directors of Lifelong Health & Fitness which they founded in 2019 to raise awareness about the benefits of regular exercise and nutrition to mitigate the effects of mental and physical disease and discomfort. Alka Athavale (BS EE '96, MSTelecommunications '98) and Bhaskar Bhave (MS Telecommunications '01) have three children and live in Chantilly, VA.
###
Elevate the value of your degree and advance your goals - read from successful Terps for crucial insights on career advice, professional development and more. Are you an expert? We'd love to hear from you. Reach out to Christine Kunkel with your story. Interested in keeping up with the latest career-based insights? Join our Career Tips for Terps Newsletter. For even more content, follow the Alumni Association on Facebook, Instagram and Twitter.