Home
About Us
News & Stories
The Maryland Way, with Edom Mesfein '20
The Maryland Way, with Edom Mesfein '20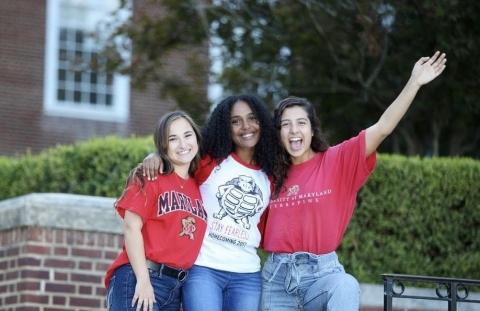 By Spencer Friedman '22
This class of 2020 alumna committed to UMD before touring the school, but could not have been happier with her choice. She made life-long friends at college, and gained invaluable experiences on campus.
Why UMD?
Edom Mesfein '20 grew up in Silver Spring, MD. Her parents didn't really give a choice when it was time to commit to a college. After applying to many schools out-of-state, she committed to UMD despite never having stepped foot on campus. Mesfein said her parents could not have made a better decision for her, and that she fell in love with the school instantly.
What clubs and organizations were you involved in at UMD?
Serving as president of the Student Alumni Leadership Council (SALC) gave Mesfein an opportunity to connect with leaders from different aspects of campus and she learned how to instill a culture of giving back to her peers. Mesfein also participated in Alpha Kappa Alpha Sorority Inc. This service-based organization allowed her to connect with her sisters, who still to this day give back to the Black community.
Have you picked up any new hobbies or interests since graduation?
Over quarantine, Mesfein was her grandmother's apprentice in learning how to knit. She spent significant time with her grandmother and said it was a great bonding experience as well.
Where do you currently work, and what's your job title?
Mesfein is a marketing specialist for CISCO Systems. She was supposed to relocate to San Francisco for work, but her entire first year with the company has been online. She expected to live in sunny California on a huge campus with several buildings, grabbing coffee with her coworkers on break. Instead, she works from her childhood bedroom. Through all the pandemic has caused, she still enjoys her job, which is managing a program that allows the company to better tend to their customers' needs while growing the pipeline.
What advice do you have for any current students or recently graduated Terps?
To current students, Mesfein recommends, "Spend as much time as possible in the Riggs Alumni Center. It's a wonderful building and one of my favorite places on campus. Second, find something on campus that allows you to be in a group of students with similar values as you."
To recent grads, she says, "You ultimately have to trust the process and know that Maryland has set you up for success."
###
This 20-part series highlights successful University of Maryland alumni from the Class of 2020. Are you a Class of 2020 graduate? Reach out to Jessica Lee (jlee1021@umd.edu) to learn more about getting involved with your Alumni Association. The Alumni Blog connects you with the latest at UMD. Check out articles on advancing your personal and professional goals, elevating your UMD pride, and celebrating Terp traditions, legacies and accomplishments. For even more content, follow the Alumni Association on Facebook, Instagram and Twitter.