Home
About Us
News & Stories
These devoted Terps are UMD fans for life
These devoted Terps are UMD fans for life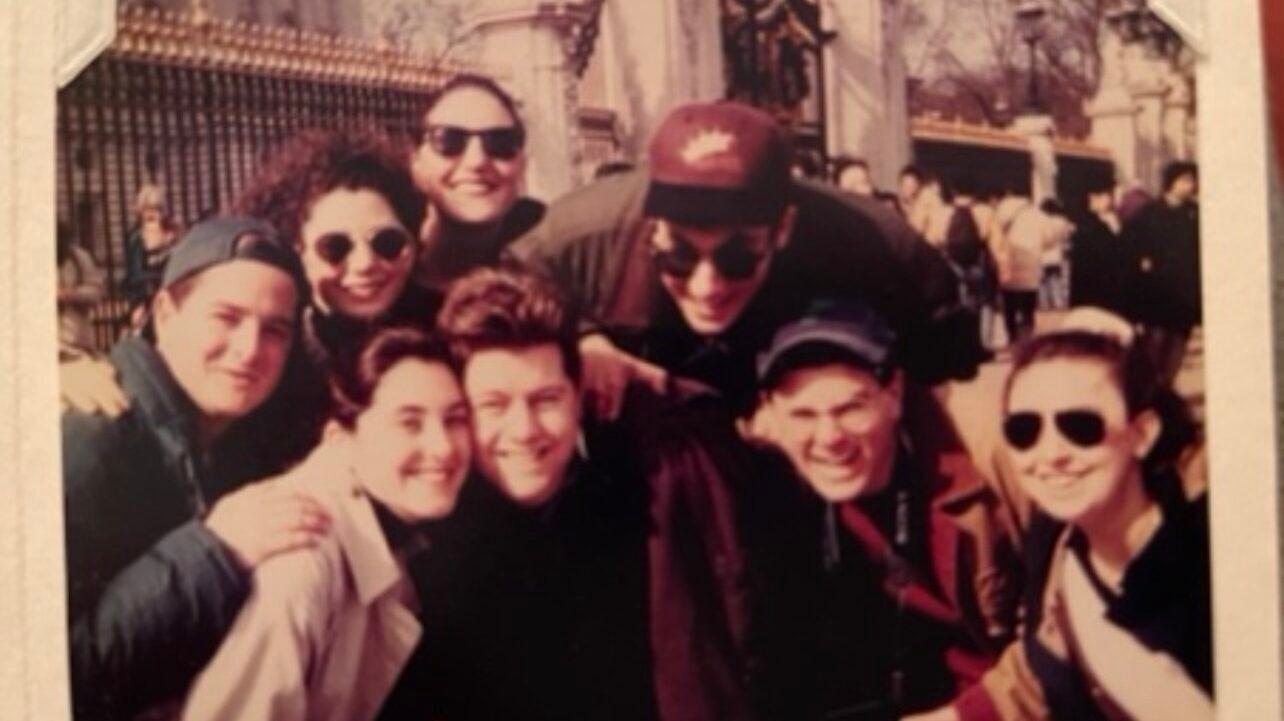 Scott Van Pelt might be the most famous Maryland sports fan, but the Friedman family is arguably one of its most loyal. Some might even describe them as brand ambassadors.
Whether it is stepping up during the pandemic to donate funds to the on-campus food pantry or rooting for some of the Terps' undersupported sports teams, they are there.
"We are probably some of Maryland's biggest sports fans," said Nancy Friedman '95. Nancy and her husband, Eric Friedman '95, are both lifetime Maryland Alumni Association members. They've tallied more than 75 games across multiple sports and multiple states.
But they don't usually experience their fandom alone. Their circle of close friends are still largely Terps. Some are tied to their Greek system affiliations, others from their majors. But the most life-altering friendships developed from the Maryland study-abroad program in London in the spring of 1994. That program produced at least three all-Terp marriages – Paul '95 and Jill (Farber) Sendik '95, Brett '95 and Lisa (Battle) Hoffman '95, and the Friedmans.
Six Terps are counted among a group of four couples who live in New Jersey and socialize regularly. Five of the six were in the study-abroad program.

Nancy and Eric's union began at the beginning of second semester freshman year when Nancy moved into Hagerstown Hall. They both had Botany 104/105 and would walk to class together. But that union likely would never have happened had Nancy's family not driven south from their home in Bridgewater, N.J., when she was 12 years old, to visit the nation's capital and surrounding areas.
They made a side trip to College Park and drove through the Maryland campus. "I loved it," she said. "It looked like what I thought a college campus was supposed to look like – the red brick buildings with the white columns."

Nancy and Eric Friedman's story stemmed from an innocent walk to class together when they were both Terp Students. The rest, is history.
While Nancy applied to other schools, she always envisioned returning to College Park. She was initially drawn to the College of Journalism and its esteemed reputation but changed her major to human development/early childhood education and followed that with a graduate degree from Columbia in speech and language pathology.
Eric, who majored in government and political science, was an intern on Capitol Hill during his senior year at Maryland. He worked for New York Sen. Alfonse D'Amato and thought he wanted to pursue a political career. That is until reality hit and Eric realized he needed to move out of his parents' Long Island, N.Y., home and get a job. He eventually became a financial advisor. He is vice president at Ameriprise Financial and was recognized this year by Forbes for Best-in-State Wealth Management Teams.

The couple, who reside in Ridgewood, NJ., attended the Maryland in Manhattan alumni event in New York City, where they met men's soccer coach Sasho Cirovski. Their first alumni event in Manhattan featured Gary Williams and Ralph Friedgen, back when their now 21-year-old daughter, Isabel, was an infant.

Nancy and Eric frequent men's and women's lacrosse, soccer and baseball games. They've attended gymkana troupe performances and even follow tangential Terps like Francis Tiafoe.
"Our friends tease us about the number of 'peripheral' sports we follow, but we're happy to root on Terps no matter the sport or competition," she said.
They've been in the lacrosse stands at Princeton and Rutgers, and have attended multiple Final Four weekends. They've cheered on the men's basketball team in the Xfinity Center and away at Madison Square Garden and the Barclays Center.
When Isabel was scouting colleges, they attended an Indiana-Maryland game in Bloomington. "We won," Nancy said. However, their daughter became a Hoosier. "But she's a Terp at heart," insisted Nancy with a smile.
###
Have an interesting story to tell about yourself or your friends from your days at UMD? Email us at alumni@umd.edu for a chance to be featured on the Alumni Association blog and receive exclusive prizes!
###

The Alumni Blog connects you with the latest at UMD. Check out articles on advancing your personal and professional goals, elevating your UMD pride, and celebrating Terp traditions, legacies and accomplishments.
For even more content, follow the Alumni Association on LinkedIn, Facebook, Instagram and Twitter!