Home
About Us
News & Stories
Using Your Resources, with Aidan Benderly '20
Using Your Resources, with Aidan Benderly '20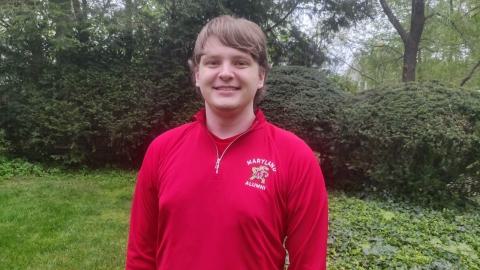 By Spencer Friedman '22
This class of 2020 alumnus participated in the honors college for Cybersecurity and used music to branch out socially. He now works for one of the top investment banks in the world.
Why UMD?
Aidan Benderly '22 of Metuchen, NJ, committed to the University of Maryland because it was frankly his best option out of all the schools he applied to. Being admitted into the Advanced Cybersecurity Experience for Students (ACES) program in the honors college propelled his interest in his intended major, electrical engineering.
What clubs and organizations were you involved in at UMD?
Benderly participated in the ACES program all four years he spent at Maryland, and was the captain of the team in his senior year. He also participated in the marching band, The Mighty Sound of Maryland, which shaped a lot of his social experiences. This was a major time commitment, with eight hours of rehearsal per week in the fall and eight hours on some game days alone.
Have you picked up any new hobbies or interests since graduation?
Benderly sought to expand his musical talents beyond The Mighty Sound of Maryland. He took an intro to piano class in his last semester before the pandemic interrupted in-person activities. Now, Benderly continues learning piano at home and practices his newly acquired skills.
Where do you currently work, and what's your job title?
Benderly works as a Technology Analyst in the identity and access department for Morgan Stanley. His job, generally, is to ensure stability and security to the infrastructure within the firm.
Benderly has been working remotely from his family's home in NJ since August. Onboarding remotely has definitely has been hard, not getting my meet his new team in person, but there are also some benefits, like being able to spend a couple of weeks in Florida while still working.
What's your advice for current and recently graduated terps?
"Current students should always take advantage of opportunities given to them." Benderly shared, adding, "There are a ton of opportunities inside and outside of the classroom that Maryland gives you."
###
This 20-part series highlights successful University of Maryland alumni from the Class of 2020. Are you a Class of 2020 graduate? Reach out to Jessica Lee (jlee1021@umd.edu) to learn more about getting involved with your Alumni Association. The Alumni Blog connects you with the latest at UMD. Check out articles on advancing your personal and professional goals, elevating your UMD pride, and celebrating Terp traditions, legacies and accomplishments. For even more content, follow the Alumni Association on Facebook, Instagram and Twitter.