Home
About Us
News & Stories
When Terrapins Connect: Passing the Torch
When Terrapins Connect: Passing the Torch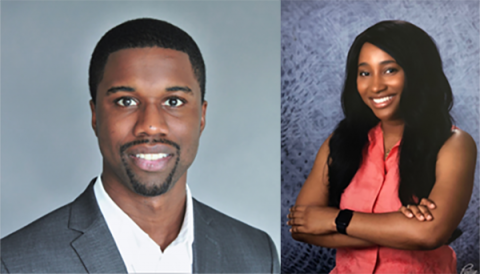 By Allison Eatough '97
Fresh off her UMD graduation and four-month internship at the U.S. Department of Defense, Hawa Anthony '18 was ready to start her technology career.
But there was one problem: The Maryland native couldn't find a full-time job.
To boost her job search, Anthony attended a UMD career fair and joined Terrapins Connect, the University of Maryland Alumni Association's networking and mentorship platform.
"I wanted to get into consulting, and at the career fair, I learned about Accenture," she said.
Accenture, a global technology consulting firm, seemed like the perfect fit. After filling out her profile on Terrapins Connect, she searched for fellow UMD alumni who worked at the company.
Terrapins Connect paired Anthony with Jason Callender '09, who at the time was an Accenture technology strategy manager. Anthony reached out over email, and within a few days, Callender responded.
"I majored in public health, and he majored in electrical engineering," she said. "I thought we'd have nothing to talk about, but he saw how passionate I was in trying to look for a job."
Callender, who said he joined Terrapins Connect to "stay connected" with recent UMD graduates, helped Anthony restructure her resume and provided tips for applying to the company. The two also spoke on the phone about Anthony's job search, her interest in technology and Callender's professional success.
"I started asking him about his experience at Accenture, and if he liked the company," Anthony said. "He said he loved it. Then I asked him, 'Is it possible for you to refer me into the company?' He said, 'Sure. I'll do that for you.'"
Callender said the decision to refer Anthony was easy, given her diverse background. She also had a "drive to learn a new coding language outside of her work and studies," he said, adding that drive is what Accenture is looking for in new hires.
"I helped her find a good role," Callender said. "She carried herself the rest of the way."
In spring 2019, Anthony accepted a job in supply chain operations at Accenture. She has since been promoted to software engineering senior analyst.
While Callender has moved on to become a vice president of data and architecture for a Florida-based healthcare provider, Anthony said they still stay in touch. During one of their calls, he asked Anthony to "pass the torch" by helping other Terps as he helped her. She happily agreed.
"I'm now going to recruiting events and trying to help out," Anthony said. "If anyone would reach out to me on Terrapins Connect, I would definitely connect with them. Even now, in recruiting events, I always leave my email address. I say, 'If you have any questions or anything you need help with, you can always email me and let me know.'"
Terrapins Connect is an online platform that allows Terps access to each other for networking, job opportunities, industry specific guidance and insight. To learn more, click here.
###
The Alumni Blog connects you with the latest at UMD. Check out articles on advancing your personal and professional goals, elevating your UMD pride, and celebrating Terp traditions, legacies and accomplishments. For even more content, follow the Alumni Association on Facebook, Instagram, Twitter, LinkedIn and YouTube.
---