Home
About Us
News & Stories
Writing Your Own Career, with Michael Hogue '20
Writing Your Own Career, with Michael Hogue '20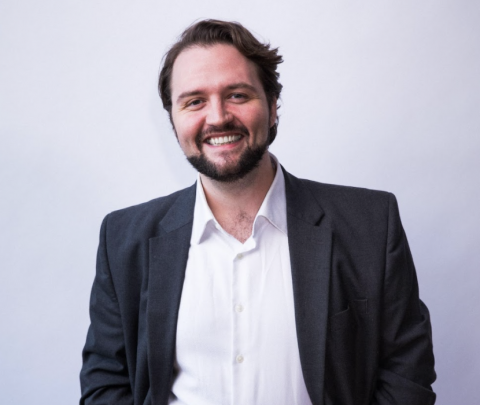 By Spencer Friedman '22
This class of 2020 alumnus took his time to find the right post-graduate program for his career aspirations. He spent most of his days at the Clarice Performing Arts Center working on his time consuming area of study.
Why UMD?
Michael Hogue '20 was an undergraduate student 15 years ago, hoping to be admitted into only one master's program. He said the Maryland Opera Studio (MOS) provided him with everything he expected from a post-graduate school.
Hogue appreciated how MOS really focused on skills specific to opera. Perhaps his favorite part of the program is that he was not required to take choir classes, or other music classes outside of his intended focus.
A well-structured program with a 'big school feel' made Hogue's time at the University of Maryland enjoyable.
What clubs were you involved in at UMD?
While he did appreciate the clubs that were available, Hogue said there wasn't much time to participate in many clubs as a student in MOS. He spent most of his time at the Clarice Performing Arts Center on north campus, and worked out in Eppley when he was not in class.
Have you picked up any new hobbies or interests?
After graduating, Hogue has picked up reading more, studying German and focusing on self-improvement.
Where do you currently work, and what's your job title?
Hogue resides in Hershey, PA, where he is an assistant supervisor of attractions and entertainment for the town's infamous Hershey's Chocolate World, as a side gig to owning his own arts consulting and management company, UNU Artists. One of his favorite parts about his company is producing operas about social injustice and working with people all over the country.
What is your advice for current students/recently graduated Terps:
"It's clear that whatever system was in place pre-COVID-19 wasn't working. Moving on from the pandemic, you can write your own career," Hogue suggests.
###
This 20-part series highlights successful University of Maryland alumni from the Class of 2020. Are you a Class of 2020 graduate? Reach out to Jessica Lee (jlee1021@umd.edu) to learn more about getting involved with your Alumni Association. The Alumni Blog connects you with the latest at UMD. Check out articles on advancing your personal and professional goals, elevating your UMD pride, and celebrating Terp traditions, legacies and accomplishments. For even more content, follow the Alumni Association on Facebook, Instagram and Twitter.