Home
About Us
News & Stories
10 for TEN: Jasmine Snead '18, MBA/MPP '21
10 for TEN: Jasmine Snead '18, MBA/MPP '21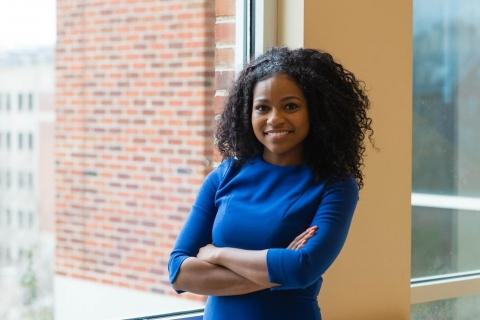 By Lauren Norris '11, '16
Jasmine Snead's name may look familiar as this Terp won the $15,000 grand prize at the 2019 Pitch Dingman Competition, UMD's annual "Shark Tank"-style business event. Read on to learn more about Jasmine and her company, Aurora Tights.
What is your Fearless Idea?
My company is the embodiment of my Fearless Idea. Aurora Tights creates athletic apparel for performers in all shades and sizes.
Describe your startup's mission and why you launched it in 100 words or less.
Performance sports, like ice skating and dance, are diversifying rapidly. To best support this inclusive environment, the first step is ensuring that all performers have apparel in their unique skin tone and size. Currently, there is a large population of performers who do not have tights that match their skin color or size. We strive to make sure women and girls, just like us, feel comfortable in their skin and excel at their athletic passions.
How do you define success or determine the impact of your venture?
My co-founders, Imani Rickerby '17, Sydney Parker '18 and I started Aurora Tights based on our lived experiences of feeling marginalized in the sports we love. As coaches, we noticed that many of our students of color were reliving our experiences. They lacked confidence and experienced isolation and loneliness, all because of the color of their tights. Many times, athletes like this draw away from the sport, not because of a lack of talent, but due to a lack of community. Success for us is creating inclusive performance apparel, but more importantly, a safe space where women and girls of all skin complexions and sizes feel included and empowered.
What is the biggest problem or challenge you have had to overcome with your venture?
Our biggest challenge was meeting minimum orders. With product-based companies, there are high minimums, and when you're starting out, it is a bit of a gamble to see if you can sell all of the inventory. However, we learned everything is negotiable. We found a manufacturer that was flexible and worked with them to significantly reduce the size of our first batch of tights.
What is the best piece of advice you've received?
Accept the things you can't change, have the courage to change the things you can, and use wisdom to know the difference.
What is one piece of advice you want to give to fellow Terps about launching a venture?
Just go for it! I wholeheartedly believe it'll never be the right time, you'll never know enough, or feel "ready." I am a big believer in research and preparation. But the true learning happens as you figure it out along the way.
What is one book you're reading or a podcast you're listening to right now?
Kind of a merge of the two. I am listening to "More Than Enough" by Elaine Welteroth on Audible.
What do you do in your free time?
I recently got into yoga and mindfulness exercises. I try to meditate at least once a day, even if it's only for 5 minutes.
What is your favorite alumni event or experience?
That's easy, Homecoming!
As a student, what was one of your favorite memories or spots on campus?
To this day, my favorite spot on campus is the Theatre Courtyard at the Clarice Smith Performing Arts Center. It is absolutely gorgeous, particularly when it's warm outside. It's located outside the Center at the top of the grand staircase. It is one of the campus' well-kept secrets and one of my favorite quiet study spots.
###
The Alumni Blog connects you with the latest at UMD. Check out articles on advancing your personal and professional goals, elevating your UMD pride, and celebrating Terp traditions, legacies and accomplishments. For even more content, follow the Alumni Association on Facebook, Instagram and Twitter.