Home
About Us
News & Stories
10 for TEN: Kate Shin '08
10 for TEN: Kate Shin '08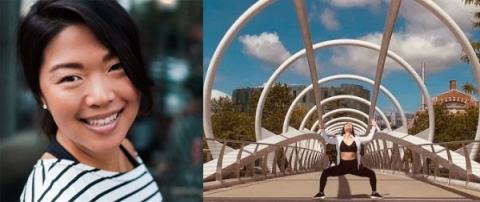 By Meghan Sykes
Health is wealth.
After losing her mom to cancer at a young age and having her own challenges with chronic knee and back pain, Kate Shin '08 appreciates the value of being healthy.
After several years in hotel hospitality, Shin knew she needed to hit a reset button from the corporate grind. Turning to yoga for her own physical and mental relief, Shin eventually grew from student to teacher. "I always knew I wanted to help people," Shin stated
Shin opened Yoga by Kate Shin in 2018 and has followed her own path to small business ownership. Her business hosts beginner classes, workshops and in-home private training, and has pivoted to virtual classes during the COVID-19 crisis.
Saturn in retrograde is no match for this fearless enTREPREneur - namaste!
What is your Fearless Idea?
Living my life in an unconventional way and having the power to design a life that I desire.
Describe your startup's mission and why you launched it in 100 words or less.
I launched Yoga by Kate Shin to share my vast teaching experiences and yoga knowledge with yoga teachers, and to support the teacher community overall. Since opening the mission has evolved to support the following communities: yoga for beginners, yoga for sedentary work lifestyle, teachers and yoga businesses. Virtual studio classes, one-on-one sessions, yoga courses, continuing education workshops and retreats are available to provide resources and wellness support.
How do you define success or determine the impact of your venture?
I define success through the testimonials and feedback from my students. When a student lets me know that their body feels better after class, or how an intention I set earlier in the week helped them deal with a difficult situation or person at work or home—that is when I know that I am succeeding. To know that my offerings as a yoga teacher and entrepreneur are making a positive impact in their life is very helpful to me and is really all I need to continue this journey I have chosen for myself.
What is the biggest problem or challenge you have had to overcome with your venture?
Not taking things personally. When business is challenging or the number of students and teachers taking my classes were low—I could not help but feel a little deflated. I'd wonder, "Why aren't more clients taking classes or signing up for my workshops?" I have gotten better at letting it go, not taking it personally, honoring my best efforts and trusting the process that all is happening the way it is supposed to.
What is the best piece of advice you've received?
"Rest your eyes when you are tired. Even if it is only for five minutes." Spoken to me by my late-mother, Lynn Shin.
What is one piece of advice you want to give to fellow Terps about launching a venture?
Practice patience and trust yourself. Designing a life that you want, that is outside the "norm" and has little direction or no right/wrong way to go about it can feel overwhelming. Things are not going to happen overnight or even in a year. Practice being patient with yourself and walk your chosen journey one step and one day at a time. And in the process, your external world will have its own unhelpful opinions which comes from its own lens of life experiences. Take what works for you and leave the restl. The power and choice is yours—always. Trust yourself!
What is one book you're reading or a podcast you're listening to right now?
I have been taking morning walks and listening to "The Yogaland" podcast. Episode 191, "How to Make Your Yoga Practice a Habit" is my favorite one that I would like to share with my Terp family! This podcast talks about how to stick to a daily yoga practice, but overall, it talks more about creating wellness habits and how to deal with the relationship you have with old and new ones. I think we are all having challenges with wellness and routines during quarantine and working from home.
What do you do in your free time?
In my quarantine-era free time I cook, take walks, take virtual OrangeTheory Fitness classes, read books and play games with family and friends on the "House Party" app.
What is your favorite alumni event or experience?
I love the perks of the alumni member discounts!
As a student, what was one of your favorite memories or spots on campus?
Taking night walks and talking with my dear friend Caroline Kim '07 on McKeldin Mall. My freshman and sophomore year I lived on South Campus and my friend lived on North Campus. At night, we would meet up at the half-way point to take long walks to get away from our computers, schoolwork, roommates and the noisiness/stuffiness of our dorm hallways. We walked around the mall and then sat by the water just talking about our day, life's dilemmas and plain old cathartic girl talk! 17 years later, she and I are still close friends.
###
The Alumni Blog connects you with the latest at UMD. Check out articles on advancing your personal and professional goals, elevating your UMD pride, and celebrating Terp traditions, legacies and accomplishments. For even more content, follow the Alumni Association on Facebook, Instagram and Twitter.