Home
About Us
News & Stories
10 for TEN: Nick Kurgansky '13
10 for TEN: Nick Kurgansky '13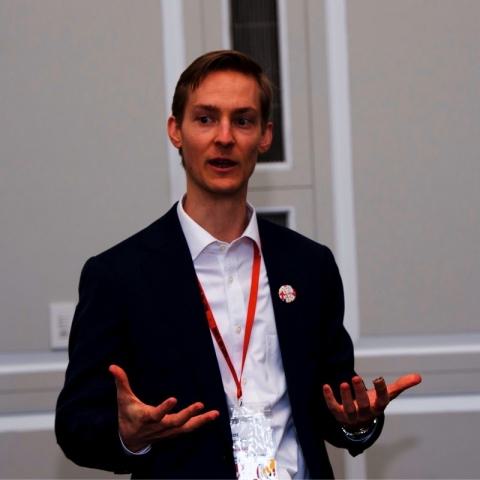 By Lauren Norris '11, '16
Nick Kurgansky '13 decided to leave his government job to become an entrepreneur. His father's medical practice was looking for a way to be more efficient and improve patient appointments/registration, and he saw an opportunity to help. Read on to learn about Nick and his company, Next In Line.
What is your Fearless Idea?
My company, Next In Line, strives to automate the entire scheduling and communication process for veterinary hospitals and other medical professionals.
Describe your startup's mission and why you launched it in 100 words or less.
I co-founded Next In Line as a way to help my dad, who is a doctor, fill last minute appointment cancellations and drive more efficiency. Today, we are all overly busy and competing for resources. Our company's goal is to make veterinary and medical practices more efficient and profitable by taking mundane tasks off their to-do list, like scheduling appointments and reminding clients. This way they can focus more on personal service and taking care of their clients.
How do you define success or determine the impact of your venture?
Our success is driven by the return on investment (ROI) for practices - how much time and money are they saving, while generating more revenue. We already have clients around the US and internationally, but want to help thousands more practices so they can maximize their profitability.
What is the biggest problem or challenge you have had to overcome with your venture?
Prioritizing. With a small team, I often joke that I am the 'Chief Everything Officer'. It's a constant battle between managing employees, clients, marketing efforts, investors and the product itself. I pride myself on time management and focusing on one thing at a time, but that is often challenging when I am pulled in five different directions during the day.
What is the best piece of advice you've received?
"Don't be everything to everyone," and "It's okay to fire a client." Nobody likes losing a client, but it's more important to deliver high quality products to your target market, than trying to do too much and delivering inferior products to many different markets. This includes letting a client go if they are not a good fit, or you can't meet their needs.
What is one piece of advice you want to give to fellow Terps about launching a venture?
Launch your idea before you think it is time. Your product or service is never going to be perfect or finished. If you wait to release it until after 'one more fix' or 'enhancement' you will never get it out there. It's better to have a version being used by clients so you can get their feedback and see how they use it, versus thinking you know what they need.
What is one book you're reading or a podcast you're listening to right now?
"Bad Blood: Secrets and Lies in a Silicon Valley Startup."
What do you do in your free time?
I love to spend time outdoors, traveling, playing sports and working on a few side projects.
What is your favorite alumni event or experience?
I like the city-specific alumni events, which for me are the Baltimore or DC events. Last year there was a fireside chat type event at the Center Club in Baltimore which I enjoyed.
As a student, what was one of your favorite memories or spots on campus?
My favorite memory was studying abroad in Nice, France for a semester. I met amazing people from all over the world and got to see some beautiful cities.
The Alumni Blog connects you with the latest at UMD. Check out articles on advancing your personal and professional goals, elevating your UMD pride, and celebrating Terp traditions, legacies and accomplishments. For even more content, follow the Alumni Association on Facebook, Instagram and Twitter.