Home
About Us
News & Stories
A Century-Plus of Celebrating Gold Medal-Worthy Terps
A Century-Plus of Celebrating Gold Medal-Worthy Terps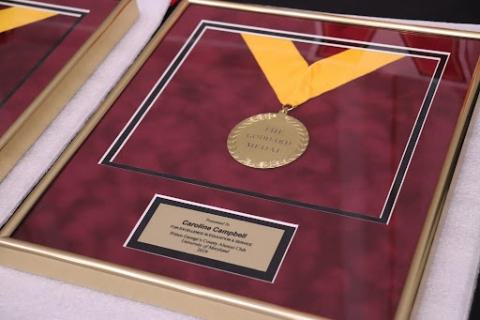 By Sala Levin '10
In 1911, it was a solid gold medal. Now, it's a $1,000 prize. Either way, the James Douglass Goddard Award and its celebration are a longstanding Prince George's County Terps Alumni Network tradition.
Given each year since 1911, the James Douglass Goddard Award is a $1,000 prize bestowed upon two graduating UMD seniors from Prince George's County, one man and one woman. The top 20 qualifying students, based on grade point average, are invited to send a cover letter and resume touting to the alumni committee their leadership roles and community service. Then, the committee selects two winners.
The award was established over a century ago by the Goddard family, a Washington, D.C., real estate family, to commemorate their brother, James. Though the Goddards had no connection to the University of Maryland, they were a philanthropic family who supported many local institutions. Originally, the award was a solid gold medal, but not everyone knew its value, said Daniel Cronin '90, who received the award and is currently a member of the selection committee. Now, a medal is presented along with the award money.
The prize is intended to "launch the rest of your life after graduation," said Cronin. He estimates some 95% of the recipients are headed on toward graduate school.
For decades, the Prince George's County Terps Alumni Network has celebrated the awardees at a springtime wine tasting. Although the COVID-19 pandemic has twice prompted a virtual event, Cronin looks forward to an in-person return of the longstanding tradition.
Emmanuel Harley '21 was one of this year's recipients. He now works in corporate IT, and used some of his reward to pay for moving costs to relocate to Jersey City, N.J., for a new job. Since the awards event was around Mother's Day, he also put some toward Bath and Body Works candles for his mom.
"I thought it was very gratifying to be recognized with the award," Harley said. "I put a lot of work into my college career, so it was good to know people were noticing."
###
The Alumni Blog connects you with the latest at UMD. Check out articles on advancing your personal and professional goals, elevating your UMD pride, and celebrating Terp traditions, legacies and accomplishments. For even more content, follow the Alumni Association on Facebook, Instagram, Twitter, LinkedIn and YouTube. Become a UMD Champion to receive monthly shareable pride points, news and more straight to your inbox.