Home
About Us
News & Stories
Alethia Nancoo '90, M.Ed. '92: Exactly Where She Should Be, Then and Now
Alethia Nancoo '90, M.Ed. '92: Exactly Where She Should Be, Then and Now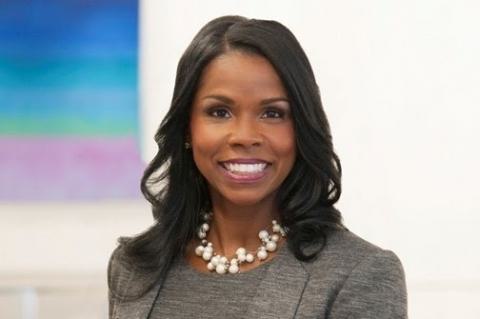 By Kimberly Marselas' 00
On the same day Americans elected their first female vice president, Alethia Nancoo '90, M.Ed. '92, shattered a glass ceiling of her own.
A first-generation American and among the first in her family to attend college, Nancoo learned on Nov. 3 that she had won her law firm's support for a coveted spot on its global board.
Nancoo is a partner specializing in debt finance and infrastructure construction at Squire Patton Boggs, the nation's 17th largest law firm. She is the first African-American woman to serve on its global board, helping shape policies that affect practice and client relationships across five continents.
"I don't take that lightly," Nancoo says. "I know the voice I bring to the board is one thing that's unique, and it has a perspective that's different than other board members'. I can speak the truth of so many people in the firm who don't have a seat at the table."
Training for her current role started when she transferred to the University of Maryland as a sophomore and found a second family among a diverse group of Terps.
At another university closer to her parents in Long Island, NY, Nancoo realized she was missing the college experience she'd always envisioned. Watching sports coverage of the Terrapins, she'd see the camera pan across the campus and long to be here.
"I remember getting on campus and approaching the M and saying, 'Yeah, this is exactly where I should be,' " she said. "That's the feeling I still get."
At Maryland, Nancoo dove into her psychology studies and rounded out her schedule with student activities. She pledged Alpha Kappa Alpha's Theta Nu chapter to connect with other women on campus and to become part of an active Panhellenic community.
"That was really the core nucleus of my friendships at Maryland, and it remains so today," she says. "You really did look to each other to help navigate."
Nancoo met her husband, Antonio D. Hunter '91, a member of Omega Psi Phi's Chi Delta chapter, at Maryland. They've been married 14 years and have two children, Chase, 13, and Clarke, 9.
Nancoo said other connections made at Maryland continue to guide her. Among influential staff members, she cites Dr. Terry Zacker and Dr. Marsha Guenzler-Stevens, who continue to lead the Adele H. Stamp Student Union - Center for Campus Life today.
Former Director of Student Financial Aid Dr. Ulysses Glee also encouraged African-American students. He "would hear our concerns about financial issues while we were on campus," Nacoo said. "So often it's the micro-dollars that will have an African-American student drop out for a semester. Perhaps our tuition was paid, but it was our inability to afford our living expenses that forced some of us to leave campus."
She was so moved by her mentors that she thought she might emulate their careers and stayed at Maryland to earn her master's in education with an emphasis in college student personnel and counseling.
But not long into her first job at University of California at San Diego's Thurgood Marshall College, where she supported diversity planning and assisted students of color as a coordinator, Nancoo decided she wanted to make more of an impact on universities.
She headed for law school at the University of Wisconsin. When she found herself working on corporate transactions during her first stint at a private firm, she was bitten by the "deal bug."
Since joining Squire Patton Boggs in 2013, Nancoo has advised airport authorities in San Francisco, New York and metropolitan Washington D.C. on capital improvements, redevelopment of terminals and toll road projects. She's also represented the firm in transportation transactions in the Bahamas and Puerto Rico. As the daughter of West Indian immigrants, she's been able to bring an understanding of Caribbean culture that helps her "interface seamlessly" with clients there.
No matter where she is, Nancoo continues to cultivate mentorships and looks to support others.
"Because of my experience at Maryland, I knew it was key to have strong champions," Nancoo said. "It's very important, especially for young professionals, to not only have someone they can talk to about their professional journey, but have someone that can see them in their totality and be able to make connections for them that they might not otherwise see."
In 2020, Nancoo was named to the Washington Business Journal's Minority Business Leaders list.
Outside of work, she is a committed community activist, giving her time and expertise to organizations in Washington, D.C., that promote economic growth, affordable housing and micro-city developments with healthcare and educational resources for local residents.
###
The Alumni Blog connects you with the latest at UMD. Check out articles on advancing your personal and professional goals, elevating your UMD pride, and celebrating Terp traditions, legacies and accomplishments. For even more content, follow the Alumni Association on
Facebook
,
Instagram
,
Twitter
,
LinkedIn
and
YouTube
. Become a
UMD Champion
to receive monthly shareable pride points, news and more straight to your inbox.