Home
About Us
News & Stories
Alumni Excellence Awards: Terp Research Award Winner Dr. Ashley Minner
Alumni Excellence Awards: Terp Research Award Winner Dr. Ashley Minner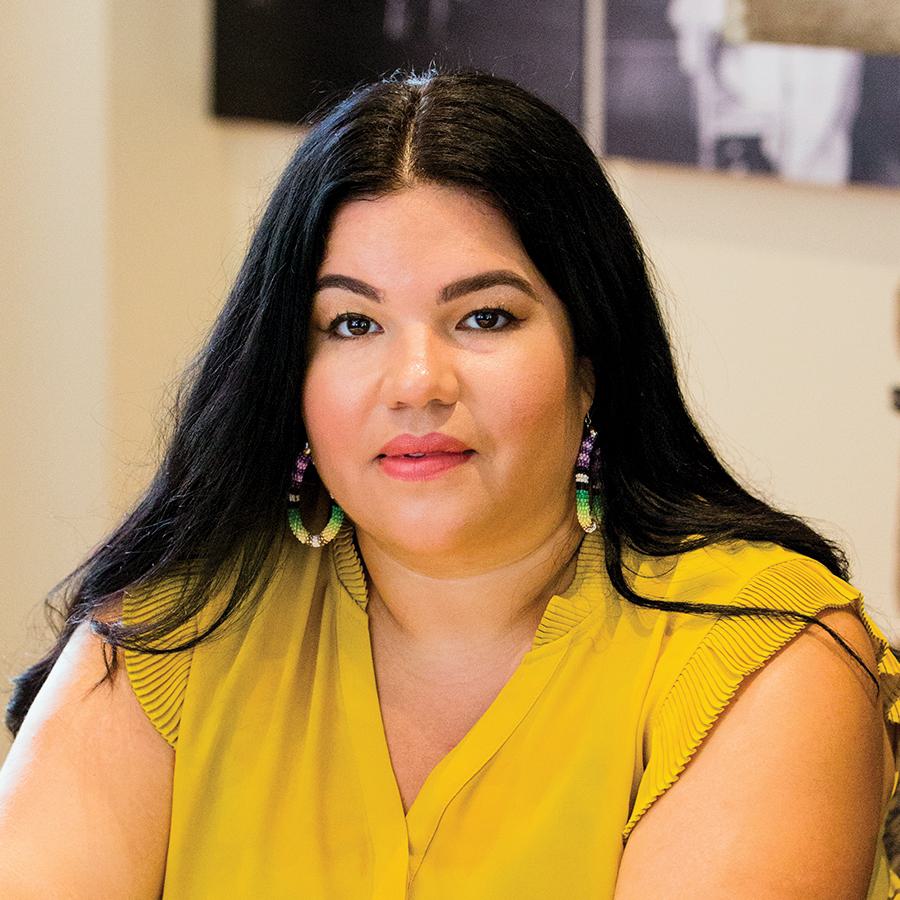 Dr Ashley Minner's mission has always been to share stories of Baltimore's urban, intertribal American Indian community with the world. She hopes to continue that work in her position as Assistant Curator for History and Culture at the Smithsonian's National Museum of the American Indian (NMAI) in Washington, D.C.
Minner, an artist and folklorist, received her doctorate from the University of Maryland at College Park in American Studies in 2020 after completing her B.A. in 2005, M.A. in 2007 and M.F.A. in 2011 all from Maryland Institute College of Art. She is an enrolled member of the Lumbee Tribe of North Carolina.
In her curatorship with the Smithsonian, Minner, a recipient of this year's Terp Excellence Award in Research, is working to shine a spotlight on urban and East Coast Native American communities. She remembered times as a young adult when she worked with the Indian Education Program for Baltimore City Public Schools and took students on field trips to the NMAI, only to discover the lack of representation.
"Most Indian students in Baltimore City are members of the Lumbee Tribe," Minner says. "We are the largest population of American Indian people in the Baltimore area, the largest tribe east of the Mississippi, and the ninth largest in the United States, but I think I've only seen about three references to Lumbee people in the [NMAI] ever. When I started in my position, I met with our recent Head Archivist, who searched the collections for me to see what representation there is presently. There's not much!"
Since then, Minner has connected with a colleague working on an initiative to collect Southeast American Indian pottery. She has put him in touch with artists—Lumbees and others— and is connecting him with other community leaders who in turn can connect him to more artists. This is just one of many connections and proposals Minner is working on to further elevate the presence and stories of East Coast Native American communities.
Through her research, Minner, who has developed several public resources on the history and heritage of Baltimore's Indian community, has learned more about herself. "The project of understanding even a defined period of time is never ending. I learned much more about my personal [and] familial connections to this place," she says.
"For example, I …hadn't realized that my great grandfather was living at the heart of what would become 'the reservation' when he died in 1948. And I guess I learned/am still learning about my own capacity to stick with this project."
During her tenure at UMCP, Minner recalls Dr. Barry Lee Pearson, a folklorist and Blues scholar in the Department of English, as her favorite professor. In her first year of her PhD program, she took his class on American roots music and then took multiple independent study classes with him, which caused her to realize that she, like Pearson, is a folklorist. Minner also credits Dr. Mary Corbin Sies with giving her a platform to share her research. "She thought what I was doing was important [and encouraged me to] share with her other classes at UMCP and in the community to develop my work in that way, by testing things out."
In pursuing her PhD, Minner says she went in hoping to work on anything but Lumbees "because I had already been doing that most of my life, but it turned out it made the most sense for me. I know it's made a big difference for me and I believe it's made a difference for our people."
###
Publication of this article does not imply an endorsement by the Alumni Association. The Alumni Blog connects you with the latest at UMD. Check out articles on advancing your personal and professional goals, elevating your UMD pride, and celebrating Terp traditions, legacies and accomplishments. For even more content, follow the Alumni Association on Facebook, LinkedIn, Instagram and Twitter.