Home
About Us
News & Stories
Alumni Spotlight: Jenny Hottle '15 '17
Alumni Spotlight: Jenny Hottle '15 '17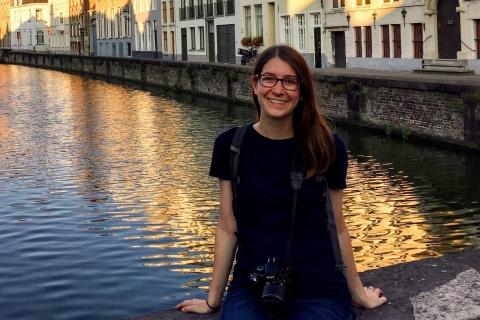 By Samantha Weissberg '20
Jenny Hottle '15 '17 always knew she had an interest in journalism. She worked at school newspapers since middle school and recognized Maryland was the perfect university for her as soon as she stepped foot in the open house at the Philip Merrill College of Journalism. But it was joining the Design Cultures and Creativity (DCC) living and learning program that added a whole new perspective.

"DCC taught me that storytelling is more than just writing, and my professors pushed me to explore aspects of journalism I had not previously considered, like multimedia and data visualization," Hottle says. "The program also introduced me to emerging technologies and brought together classmates of different disciplines to creatively solve problems in exciting ways."

As an undergraduate, Hottle brought her reporting and editing experience to several campus publications. She began working at The Diamondback as a copy editor but soon realized she missed the excitement of covering breaking news. A summer of freelancing for the news desk led her to a full-time role as a staff reporter and then news editor.

"As I was packing up my dorm room to head home for the summer, the news editor called me to write a story about the new journalism school dean," she recalls. "I thought, why not? Sometimes, it's just about saying yes to things no matter how they might pan out."

Hottle's time at The Diamondback and several reporting internships landed her a job in the Office of Communications at NASA's Goddard Space Flight Center after graduation. There, she wrote science and tech features, social media content and edited videos about astrophysics and Earth science.

"At NASA, I was surrounded by brilliant people doing projects that changed the way we viewed our universe. I was especially fascinated by all the technology being developed," Hottle explains. "I was growing tired of just writing about people doing the cool tech work — I wanted to be doing it myself."

Hottle returned to Maryland to pursue her master's degree in Human-Computer Interaction in the iSchool. She says the lifelong relationships she developed with her professors in the journalism college and the iSchool helped her on her path to becoming a designer — first as a UX designer at Capital One and now as a product designer at The New York Times.

Mixing her passion for technology with her experience as a journalist, Hottle designs the internal tools that Times reporters and editors use to budget, produce, manage and archive their work. Her goal, she says, is to make newsroom tools simple, efficient and delightful. Her previous journalism jobs required her to use various content management systems, many of which were painfully outdated and complex, so she could relate to the needs of editors at The Times.

"I had some journalism experience, and I knew all the newsroom lingo," Hottle says. "That background helped me get into the groove fast."

With a career that's evolved as she grew her interests, Hottle urges students and alumni to be open-minded about where their career experiences may take them.

"Take advantage of any opportunities that come your way," she says. "You never know where they are going to lead you."

You can read more about Jenny on her website, jennyhottle.com.
###
The Alumni Blog connects you with the latest at UMD. Check out articles on advancing your personal and professional goals, elevating your UMD pride, and celebrating Terp traditions, legacies and accomplishments. For even more content, follow the Alumni Association on Facebook, Instagram and Twitter.