Home
About Us
News & Stories
Alumni Spotlight: John Czupak '89
Alumni Spotlight: John Czupak '89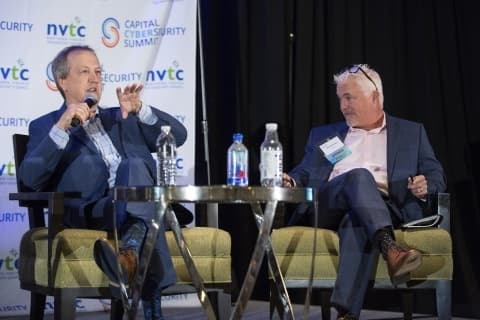 By Allison Eatough '97
When John Czupak '89 graduated from UMD with his MBA, personal computers and mobile phones weren't everyday essentials on campus, and the internet and cloud computing, as we know it, didn't exist.
Fast forward to 2020, when Czupak, now president and CEO of ThreatQuotient, is helping businesses and governments around the world detect and prevent cyber threats.
"I learned early on I'm definitely a small company, startup kind of guy," he said. "But I didn't enter this thinking, 'I want to be a cyber startup guy.' The cyber industry was in its infancy then."
After graduate school, Czupak worked as a financial analyst at a small Maryland technology firm. He also served as the company's head of human resources.
"What did I know about human resources?" he recalled thinking. "Nothing, but I said, 'OK, I'll wear that hat.' Then they decided to give me all of the office administration and management responsibilities. I got my hands involved in a lot of different things."
That experience showed Czupak he had a knack for helping technology companies grow. He spent the next 30 years leading seven different tech startups.
Among his employers: AXENT Technologies, a Maryland cybersecurity startup acquired by Symantec for $975 million, and Sourcefire, another Maryland cybersecurity startup acquired by Cisco for $2.7 billion.
Czupak remained with Cisco for about a year as an advisor and considered himself "semi-retired." But the experienced tech leader said he still had "gas left in the tank."
So when he learned about ThreatQuotient, another startup looking to make its mark, he literally and figuratively jumped on board. He invested in the company as a board member, and then in October 2015, became its first president and CEO.
The company's main product is ThreatQ, a cyber integration platform that makes it easier for users to find security threats like phishing, where scammers try to gather personal information using fake emails or websites.
The company has found early success, with business doubling each year since it launched, Czupak said.
"When you can work around good people who are talented and you get along with, it can be a great situation," he said.
Looking back, Czupak said it's "mind-boggling" to see how far the technology field has come in the past three decades.
"The world we're in right now is going to force even more acceleration," he said. "The way people work is already changing, and I don't think it's going to revert back to the way it was… Change is afoot. You better be prepared for it."
Still, the man who has helped several multimillion-dollar technology and cyber companies grow admits he's not always at the forefront of what's new.
"I just signed up for Netflix," he said.
###
The Alumni Blog connects you with the latest at UMD. Check out articles on advancing your personal and professional goals, elevating your UMD pride, and celebrating Terp traditions, legacies and accomplishments. For even more content, follow the Alumni Association on Facebook, Instagram and Twitter.