Home
About Us
News & Stories
Alums Crack Crabs, Celebrate Terp Spirit
Alums Crack Crabs, Celebrate Terp Spirit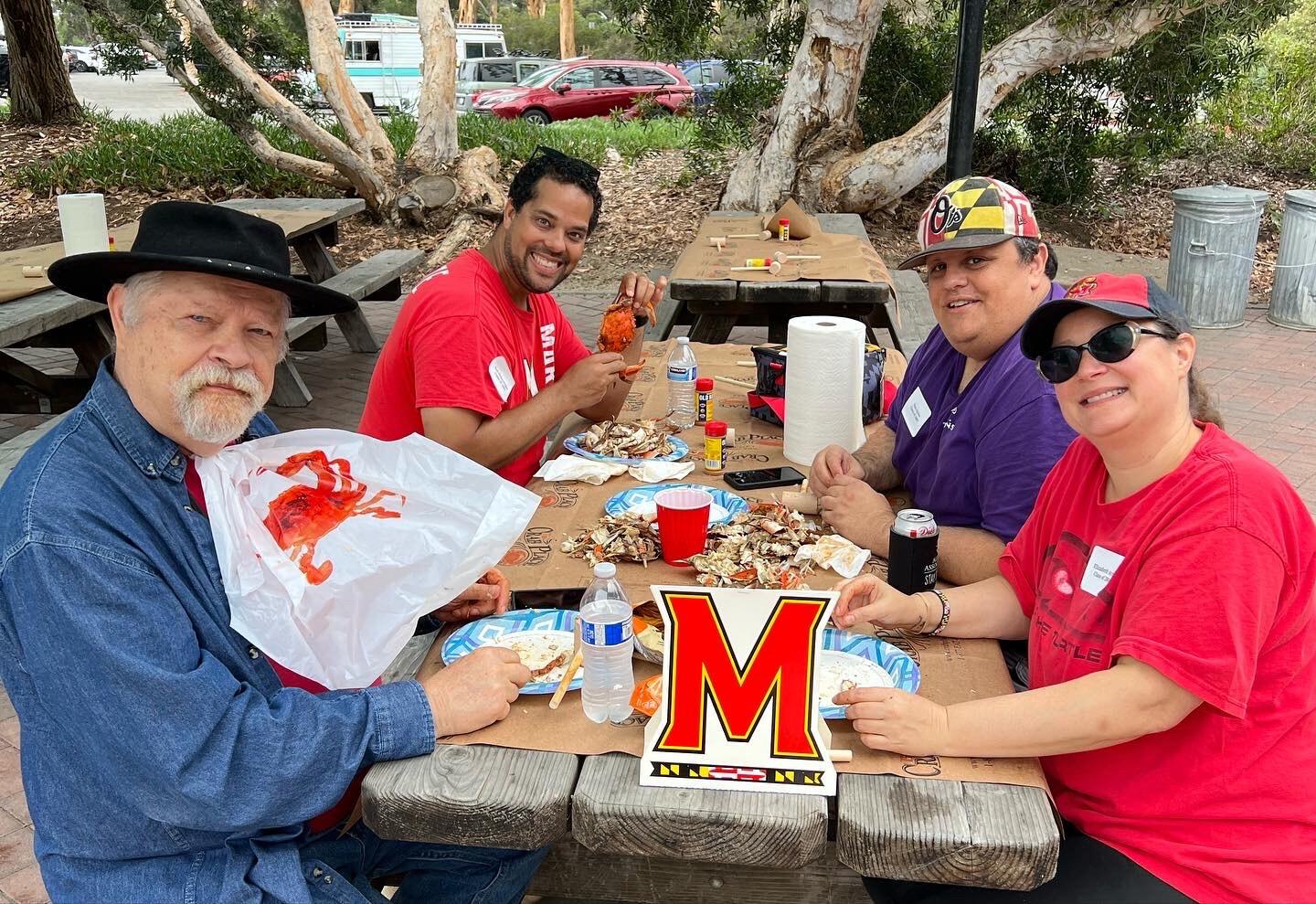 For Maryland graduates who have never been to an Alumni Association Crab Feast, let Brad Hench '75 explain what's on the menu.

"There's crab, crab and more crab," smiled Hench, one of more than 90 alumni, family members and friends to gorge on the tasty crustaceans at this year's Atlanta Terps Alumni Network event on Sept. 23. Hench was one of several volunteers to organize the gathering on the shores of Lake Lanier, which included ordering nine bushels of crabs – there are six dozen crabs per bushel – from Maryland's Eastern Shore.

"College pride is extremely big in this part of the world," added Hench, a veteran of 10 feasts. "To be able to get together with a bunch of Maryland alums, crack crabs, drink beer, laugh and compare notes, it's just priceless. We get to reconnect with old friends and make some new ones. That's as good as it gets."

The San Diego and New York Terp Alumni networks held their own crab feasts in September, signature events in which Maryland alums new and old can rekindle school pride and learn about other events being planned for the year. The Atlanta network, for its part, uses the feast – with matching funds from alumni employers – to raise money for the university's crisis fund, administered by the Dean of Students Office to students at risk of dropping out of school due to events impacting their health, safety or wellbeing.

This year's feast was memorable for more than just perfect weather and a filling meal. Attendees also were able to watch on TV the Terp football team triumph over Michigan State. Sums up Hench: "It was a fun afternoon."

A week earlier in California, at Doheny State Beach, 85 Terp faithful gathered for their own feast hosted by the San Diego network. Each attendee got six crabs – leftovers went home to be made into crab cakes – and there were also burgers and hot dogs. The crabs, however, were the stars of the show.

"You can't really get them out here, and it's expensive to have them shipped," says Maria Ball '12, president of the San Diego Terps Alumni Network. "So when we do an event, people come out of the woodwork. It's definitely the event of the year.

"It's nostalgic," she adds. "The crab feast takes people back to their time at Maryland. It's like going to a big family reunion, that's how people feel about coming. Even if they don't know anyone, they quickly find something in common. It's really a great entry point to learn about what the Alumni Association does, and they're probably going to go to another event so we can keep the conversation going."

Whatever the chapter, volunteers are hoping to generate interest among younger alumni. The New York network advertised its crab feast on social media, including Facebook and Instagram. The feast, held at Abbey Tavern in Manhattan, drew 40 attendees. They, similarly, cheered on the football team over crab and beer.

"People were excited about it," says New York volunteer Pat Kilduff '16. "It's a special event. I've met people who work and live in New York City, and I've made friendships that I otherwise wouldn't have had."

You don't need to look far to find Maryland alumni near your own neighborhood. Find your next Terp event on our events calendar by clicking here and by joining your local alumni network.
###

The Alumni Blog connects you with the latest at UMD. Check out articles on advancing your personal and professional goals, elevating your UMD pride, and celebrating Terp traditions, legacies and accomplishments.
Have an interesting story to tell about yourself or your friends from your days at UMD? Email our team at maycardi@umd.edu for a chance to be featured on the Alumni Association blog and receive EXCLUSIVE PRIZES!
For even more content, follow the Alumni Association on Facebook, LinkedIn, Instagram and Twitter.