Home
About Us
News & Stories
An English Major Goes High-Tech
An English Major Goes High-Tech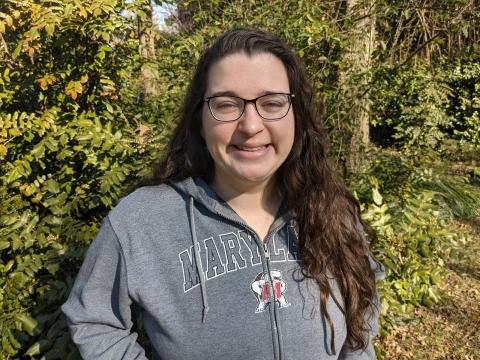 By Sala Levin '10
As a University Park elementary school student taking part in a research team in UMD's Human-Computer Interaction Lab (HCIL), Emily Rhodes Fritz '13 didn't know she was building the foundation for a future career merging technology and design.
In 2011, nearly a decade after Fritz's participation on KidsTeam, a project in which adults and children work together on design technologies for kids' educational products, she was a UMD undergraduate, lost in Hornbake Library. Looking for a water fountain, she found herself face-to-face with a "giant, stuffed robot" named Noobie, she said: the unofficial mascot of the design team. She was at the HCIL, and soon, she began working there as a research assistant.
That lab is "literally the reason why I'm in this field today," said Fritz, who works as a senior user experience researcher at Google, helping develop internal tools to make the company more accessible for its own employees with disabilities, and looking for new innovation opportunities in web accessibility.
Growing up in "the university's backyard" in nearby University Park, Fritz felt a deep connection to UMD. Her parents met while they were students in College Park, and two of her three older brothers also attended the university.
As a student in an early college program at a small liberal arts school in Virginia, Fritz decided to transfer to UMD for expanded class offerings, and because she "wanted the UMD experience," she said. She dabbled in studio art and French, but settled on English as a major. "I am so passionate about liberal arts and how liberal arts majors run the world," she said. "You have to have a really balanced background."
After three years working in the HCIL, Fritz graduated and went on to the University of Baltimore, where she earned a master's degree in interaction design. An internship with YouTube pushed her toward the corporate world rather than her planned route of academia.
Fritz and her husband, also a UMD graduate, are putting down roots in the area; they recently bought their first home in University Park, from which Fritz works remotely.
She hopes to encourage more students with unconventional paths to consider an array of professional possibilities. "A lot of people might not consider careers in tech, especially if they were former English majors, she said. "But there are so many ways to get experience in the tech field nowadays, and so many different roles in tech."
###
The Alumni Blog connects you with the latest at UMD. Check out articles on advancing your personal and professional goals, elevating your UMD pride, and celebrating Terp traditions, legacies and accomplishments. For even more content, follow the Alumni Association on Facebook, Instagram, Twitter, LinkedIn and YouTube. Become a UMD Champion to receive monthly shareable pride points, news and more straight to your inbox.