Home
About Us
News & Stories
An Influencer Takes the Mic
An Influencer Takes the Mic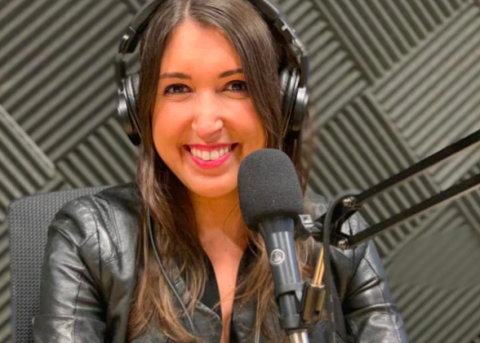 By Kimberly Marselas '00
This spring, Jenn Sherman '14 found herself spending more time in a podcast studio than she ever imagined — and most of that "studio" time was in her home near Washington, D.C.'s Foggy Bottom neighborhood.
Adapting to COVID-19 by harnessing at-home technologies was just another in a series of early career evolutions for Sherman, founder and chief strategist of The Influencer Collective, a podcast production and digital asset strategy firm.
Sherman cut her teeth as a public relations intern starting at the age of 15. After graduating with a communications degree and spending two years in the corporate world, she launched her own brand supporting firms committed to technology, food innovation, youth, veterans and making a social impact.
Hers has never been a standard press release and placement company. Instead, Sherman wants to capture and capitalize on emerging trends in the virtual realm.
"Traditional marketing isn't ever necessarily going away," Sherman says. "But I believe in old school-meets-new school."
Sherman and a team of consultants will certainly work to get Influencer clients coverage in traditional outlets like print or on TV, but the focus is on building original content on digital platforms — whether that's Facebook live stream or an appearance on the marketing agency's growing podcast lineup.
So far, Sherman has produced three separate podcasts: We Are Everyone, on behalf of the mental health awareness non-profit Pivotal Moments; A Dose of Your Future, featuring interviews with executives and thought leaders; and The Influencer Collection Show, which shares the stories of influencers from a range of industries whose work has a social impact mission.
During the pandemic, she was lucky to find her personal life and work overlapping a bit.
Sherman launched The Influencer Collective Show with an episode featuring education advocates from the Boys & Girls Club of Greater Washington.
When she was unable to go to restaurants where she loves "eating great food and drinking great whiskey and wine," Sherman gave more of her time to local causes she'd gotten to know through her work.
First up, she taught an entrepreneurship class to students at a virtual Boys and Girls Club camp. Then, she offered to help manage social media outreach for a pair of Air Force veterans encouraging girls to fly through their charity, The Milieux Project.
Whether on the clock or off, Sherman says she wants others to understand the importance of quality engagement in a world that can get too caught up in quantities.
She will gladly deliver click counts and land clients new followers, but she is more interested in teaching business owners how and why to build meaningful relationships with targeted audiences.
Her goal is to continue expanding the podcast network for her clients and to begin hiring hosts so that she can stay focused on the bigger picture.
For this loyal Terp, that includes giving back and Doing Good. She often recruits fellow Terps as interns, and this summer she hired her first employee — also a Terp.
"My internships fueled my love for communications," she says. "And the benefits and relationships I have had because of Maryland became even more meaningful as an alumna."
###
The Alumni Blog connects you with the latest at UMD. Check out articles on advancing your personal and professional goals, elevating your UMD pride, and celebrating Terp traditions, legacies and accomplishments. For even more content, follow the Alumni Association on Facebook, Instagram and Twitter.