Home
About Us
News & Stories
Around the World and Still in Love with Maryland
Around the World and Still in Love with Maryland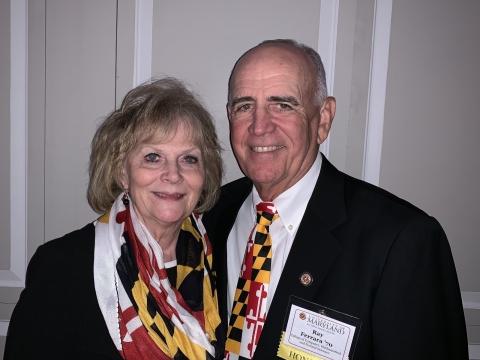 By Kimberly Marselas
Ray '70 and Kim '70 Ferrara's love story has taken them to 70 countries and all seven continents, but they wrote the earliest chapters at the University of Maryland.
The two met just days into their junior year, set up by Kim's roommate (at Ray's request) at a mixer outside the Centreville dorm complex.
It was the long, blonde hair flowing down Kim's back that first caught Ray's eye, but he would soon come to know and love her thirst for adventure and her "gracious" spirit.
Back then, Ray was a zoology student who thought he might become a doctor. The then-Kim Fries yearned to be a flight attendant, but "I came to Maryland because my parents wanted me to earn a degree first," Kim says.
Their career paths would diverge dramatically, but neither left each other's side after they became a couple in 1969.
"We were both very fortunate to be first in our families to go to college," says Ray Ferrara, chair and CEO of ProVise Management Group and immediate past chair of the University of Maryland College Park Foundation board. "We knew it would be a good thing to get a degree, but we had no idea how meaningful it would become, aside from meeting each other, to be able to look to the university and give back."
Ray Ferrara was a WMUC deejay, student government treasurer and a resident assistant in Cumberland Hall. Kim was a member of the Homecoming Court in 1968, and she was often found at brother Greg Fries '71 football games.
The Ferraras weren't an instant couple. Kim had become serious with a Naval Academy grad who died in Vietnam just weeks after shipping out. Later, the same friend who had introduced Ray to Kim asked him to help console her, and they soon began spending more time together. They became closer after the next summer break.
Their courtship involved plenty of football, basketball and lacrosse games; live concerts; and quiet picnics on McKeldin Mall.
They wed in Memorial Chapel on Halloween 1970 — the only open weekend that fall overlapping with a home football game so Greg could attend.
"Kim wanted a small wedding, and I come from an Italian family," Ray says. "There was no small."
Forty years later, Ray surprised his bride with a renewal of vows inside the sanctuary's more intimate Garden Chapel, where they were surrounded by many of their friends from campus.
Ray had gone to work for IBM immediately after college, but not long after, a fellow Terp and friend of Kim's introduced him to investing. He then pursued his securities registration and insurance license on his way to becoming a financial planner.
As Ray's reputation grew, the couple chased opportunities from Hyattsville, Md. to Texas to Florida. The couple also rarely declined a chance to vacation. Their passion for travel took them to both poles and plenty of destinations between them.
That limited their time on campus until a longtime friend from the Alumni Association brought them back into the fold.
About 20 years ago, the Ferraras made a significant gift to support construction of the Samuel Riggs IV Alumni Center and endow a scholarship intended to support need-based aid for students pursuing health or education careers.
"A better educated society is a healthier society," says Ray, sharing a mantra he and Kim developed to guide their giving over the years. Kim, who taught third grade and gifted students for more than 30 years, remained a true partner in deciding which ventures they would support until her health declined recently due to Alzheimer's disease.
COVID-19 canceled a planned 50th anniversary "blowout" on campus, but the Ferraras managed to celebrate a bit early with a month-long sojourn to Tahiti, New Zealand and Australia. Their helicopter tour to White Island preceded a fatal volcanic eruption by just hours.
While they have plenty of wild tales from around the globe, the University of Maryland will always hold a special place in the Ferraras' hearts.
"There are a lot of great memories there, both while we were there and to this day," Ray says.
###
The Alumni Blog connects you with the latest at UMD. Check out articles on advancing your personal and professional goals, elevating your UMD pride, and celebrating Terp traditions, legacies and accomplishments. For even more content, follow the Alumni Association on Facebook, Instagram, Twitter, LinkedIn and YouTube. Become a UMD Champion to receive monthly shareable pride points, news and more straight to your inbox.