Home
About Us
News & Stories
Built to Be Bold with James Fayal '12: A Q&A with an EnTERPreneur
Built to Be Bold with James Fayal '12: A Q&A with an EnTERPreneur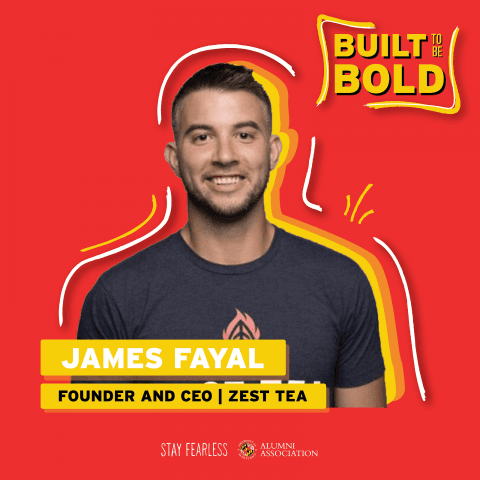 By Jess Woodard '20
On October 7, 2020, the Student Alumni Leadership Council (SALC) hosted their second ever "Built to Be Bold" event with James Fayal '12. The virtual event is modeled after "Vogue 73," a video series where celebrities are asked a series of 73 rapid fire questions. Event host and SALC member Alisha Patel '22 asked James 56 questions in honor of the chartering of the University of Maryland in 1856. The questions ranged from his daily routine, hobbies and interests, company and goals.
James graduated from the University of Maryland in 2012 with a degree in Finance. While at Maryland, he participated in many university traditions. One of his favorite traditions was skipping the football games to continue tailgating with friends and family. However, more academically, his favorite tradition was rubbing testudo's nose during finals for good luck.
After graduating, James started working for a venture firm as an analyst before starting his own company, Zest Tea, in 2014. This year, James was ranked in the Forbes "30 under 30 – Food & Drink 2020" list for his work with Zest Tea. When asked about the difficulty of starting a company, James shared that while there are a lot of highs and lows, the best part of being an entrepreneur as being able to create your own schedule.
Throughout the event, James described his strengths, discussed his mentor and shared advice he has received and the motto he lives by - have an opinion, take a stand and be right most of the time. James described himself as an analytical and scrapy individual who is pretty candid and focused but has a tendency to drift off. He describes one of his strengths as being very honest with his team but admits that he can work on his ability to delegate a bit more.
A significant mentor in James' life is his father, a "serial entrepreneur" who helped him start Zest Tea, and who he talks to every day. When asked what advice he could give to entrepreneurs when starting their own business, he says "Screw them." James gives this unexpected advice because when doing something new or out of the norm, there are a lot of detractors. He finds it important to listen to them, but to also forge the path on your own.
James closed the event by sharing his Fearless Idea - creating universal base income to reduce the financial stress that many experience daily. When Alisha asked James the last question of the night, "What does it mean to be bold," James was ready with his answer: to be able to put risk into perspective, and to put risk into the back of one's mind so you are able to move forward.
###
The Alumni Blog connects you with the latest at UMD. Check out articles on advancing your personal and professional goals, elevating your UMD pride, and celebrating Terp traditions, legacies and accomplishments. For even more content, follow the Alumni Association on Facebook, Instagram and Twitter.