Home
About Us
News & Stories
Chugging Along Toward Success
Chugging Along Toward Success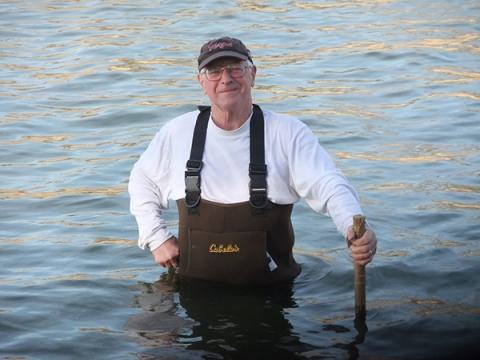 By Kimberly Marselas '00
A junior college transfer and railroad worker, Keith Risser '70 took advantage of guaranteed admission to Maryland to reroute his life.
More than 50 years later, a fork in the road is like an old friend to Risser.
He started his post-graduation career as a junior high life sciences teacher in Prince George's County — still running trains overnight — then quickly pivoted to a life in sales. When the building materials company he worked for closed its plant, Risser seized the opportunity to found American Building Products, a lumber company. And in the early 2000s, he spun off a new specialty company, DEK Drain, which offers a patented system for under-deck ceilings.
"I'm always looking for opportunity," says Risser, 75, a father of three and grandfather of nine. "I like to say, 'Keep turning up rocks.' You have to like what you're doing."
Today, Risser oversees DEK Drain remotely, while a team of four runs the shop near BWI Marshall Airport and ships supplies to all 50 states and several foreign countries.
He and his wife, Cindy, have been married 51 years and make their home in Columbia, Md. They met while Risser was at Maryland living in Annapolis Hall, his dorm room home to regular games of bridge.
Risser didn't sleep there often. His father had worked for the Pennsylvania Railroad, and the younger Risser carried on the tradition as an overnight freight conductor assigned to Benning Yard in Southeast Washington, D.C.
"I would leave the dorm at 11:30 p.m. on my motorcycle with my railroad hat, hand lantern and work gloves in hand," he recalls. "It started as a summer job. It was kind of fun, and I realized it was quite lucrative. I bought a car, and it paid for that motorcycle."
When a friend of Risser's brother set him up on a blind date with Cindy, the two met at a railroad siding on New York Avenue in D.C. They later attended a Maryland football game.
The Rissers still attend theater performances and men's and women's basketball games on campus together, though Risser is sure to share his season tickets with the shop crew and clients who keep DEK Drain running.
DEK Drain's concept uses commercial rubber roofing cut into trapezoid-shaped panels to cover joists and capture rainwater running between them. That ensures dry, usable space below any kind of deck. Risser has been manufacturing it for 21 years, selling about two-thirds to contractors and the remaining one-third to handy homeowners.
For all the business success he's had, Risser says, much of it came down to following a fork in the road, starting with the one that led him to Maryland. He was swayed by a tuition remission program at the time that offered to cover his fees if he worked in public education for three years.
"I had no money but plenty of ambition," he says. "My time at Maryland was without equal."
###
The Alumni Blog connects you with the latest at UMD. Check out articles on advancing your personal and professional goals, elevating your UMD pride, and celebrating Terp traditions, legacies and accomplishments. For even more content, follow the Alumni Association on Facebook, Instagram and Twitter.