Home
About Us
News & Stories
Do Good Service Month: Spotlight on CIVICUS
Do Good Service Month: Spotlight on CIVICUS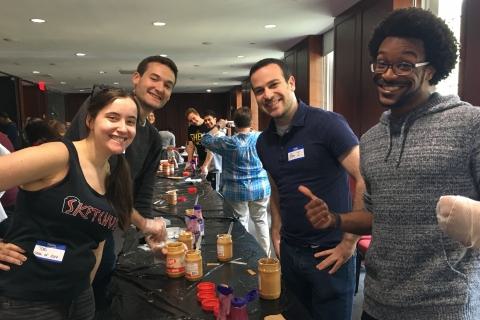 As the nation's first Do Good campus, the University of Maryland aims to educate and inspire a Do Good generation of students to apply their education, skills, and values to make an impact on the great societal challenges of our time. It is rooted in our land-grant mission of putting knowledge into practice for social and economic betterment. Click here to learn more.
Each April, the Alumni Association hosts Do Good Service Month to inspire Terps to make a difference in their communities! While you're finalizing your Do Good events for this year, get inspired by the CIVICUS Alumni Network's annual PB&J Service Project! Learn how the CIVICUS network provided about 300 sandwiches to children in need last year from Tessa Trach '17.
How does CIVICUS Do Good each April with the PB&J Service Project?
Making PB&J sandwiches is a deep-rooted tradition in the CIVICUS Program. It goes all the way back to the first night, when everyone is meeting each other for the first time, bonding over these sticky sandwiches. While we're building our social capital, another concept we learn about in CIVICUS, we're also doing a good deed for the community. Making a sandwich seems like such a simple thing, but that could be one person's only meal of the day. Every CIVICUS student has started their CIVICUS career off by doing good, so why not bring it back around in the month of April?
How many sandwiches did you prepare last year? How many participants did you have?
Last year we made about 300 sandwiches and about 25 people participated, current students and alumni alike (pictures attached).
Why Martha's Table?
Martha's Table has been a long time partner with the CIVICUS Program and we volunteer with them regularly. Maintaining healthy and long-term partnerships is extremely important, so we wanted to continue our partnership by donating to Martha's Table.
Why is participating in Do Good Service Month important to the CIVICUS network?
The core of the CIVICUS Program is its focus on service and leadership, so keeping those themes going as an Alumni Network is really important to us. Participating in service trips around DC and Maryland bonded us as CIVICUS Associates, and continue to do so even after graduating the program. April shouldn't be the only month in which we put an emphasis on service, but it's a good reminder to do so!
Do you have any advice for a network leader planning a service event?
Planning a service event can be tough, because not everyone feels like they "have time" for service because of work, life, etc., but you have to remind people to make time. Serving others can bring joy and remind you of the good that there is in the world. Doing a service activity as a group brings people together, and can spark conversation and connections. Remind your group that service can be fun! Be sure to plan ahead, and try to find an organization to partner with that connects with your group, so that your group will be more excited and willing to participate.
###
The Alumni Blog connects you with the latest at UMD. Check out articles on advancing your personal and professional goals, elevating your UMD pride, and celebrating Terp traditions, legacies and accomplishments. For even more content, follow the Alumni Association on Facebook, Instagram and Twitter.