Home
About Us
News & Stories
Doing Good with Le-Marie Thompson '01
Doing Good with Le-Marie Thompson '01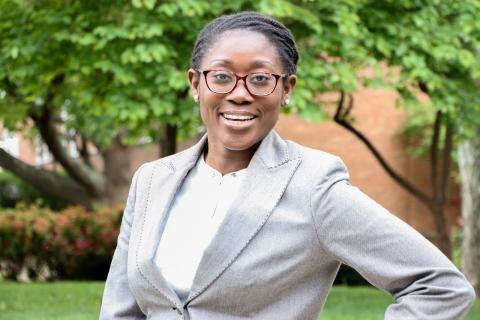 By Allison Eatough '97
As the nation's first Do Good campus, the University of Maryland aims to educate and inspire a Do Good generation of students to apply their education, skills, and values to make an impact on the great societal challenges of our time. It is rooted in our land-grant mission of putting knowledge into practice for social and economic betterment. Click here to learn more.
As a senior product manager for a satellite communications company, Le-Marie Thompson '01 spent years developing devices to help people in crisis communicate.
"We provided devices that could be used when your cellular networks go down during disasters like tsunamis and earthquakes," the electrical engineering graduate said. "We also secured communication systems for relief organizations and folks like the United Nations and Doctors Without Borders."
But it wasn't until Thompson helped a friend fighting to ban blood diamonds, also known as "conflict diamonds," that she began wondering just what was in those devices she helped to develop.
"Diamonds aren't in a whole lot of electronic devices, but I thought, 'Let's see what else is,'" she said. "This is where the research skills I learned at Maryland were really helpful. There are minerals in the stuff I make, like tin, tungsten, tantalum and gold – minerals used in cell phones, laptops and even washing machines."
Most of these minerals come from the Democratic Republic of Congo. There, armed groups run mines, subject their workers, including women and children, to human rights violations and then use the money gained from mining to fund wars.
"There is this problem with devices that we make," Thompson said. "It's not a problem of whether the devices don't work well, it's that we don't know where these materials are coming from and who has been harmed by their procurement. We need to know."
So in 2012, Thompson left the telecommunications field and founded Nettadonna – a sustainable product development company that works to eliminate use of conflict minerals in electronics and create programs and products that foster responsible management of Earth's resources.
Companies use Nettadonna's Conflict Free Electronics™ Platform to see if their products have conflict-free minerals. If they don't, the platform provides resources to find conflict-free mineral suppliers and producers.
Companies also hire Nettadonna to develop sustainability solutions and projects. In 2015, Nettadonna worked with a Malaysian-based organization to create the country's first Solar Academy – a solar energy education and job training program for underprivileged youth. Most of the academy graduates went on to work in the solar and technology fields, Thompson said.
Thompson's latest project is Women Building Sustainable Innovation, which she created to educate and prepare immigrant women for sustainability careers. Project modules will cover climate change, water, wind, solar, hydro, agriculture and renewable energy. At the end of training, Nettadonna will help place participants in jobs with partner companies, Thompson said.
"We have finite resources to create products and services on this planet," she said. "We can all still enjoy the life that we would like but do it in a way that it doesn't hurt or impact society negatively."
Along with running Nettadonna, Thompson teaches social entrepreneurship classes at UMD.
#
The Alumni Blog connects you with the latest at UMD. Check out articles on advancing your personal and professional goals, elevating your UMD pride, and celebrating Terp traditions, legacies and accomplishments. For even more content, follow the Alumni Association on Facebook, Instagram and Twitter.