Home
About Us
News & Stories
Doing Good with Sid Chakravarthy '13
Doing Good with Sid Chakravarthy '13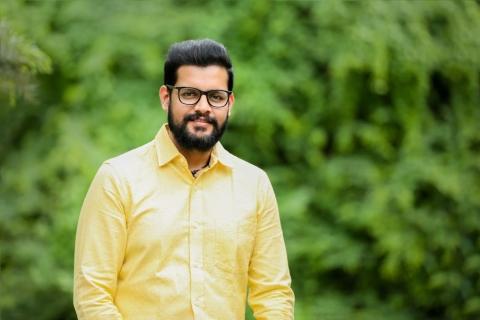 By Allison Eatough '97
As the nation's first Do Good campus, the University of Maryland aims to educate and inspire a Do Good generation of students to apply their education, skills, and values to make an impact on the great societal challenges of our time. It is rooted in our land-grant mission of putting knowledge into practice for social and economic betterment. Click here to learn more.
Scientists hope to soon produce a vaccine that prevents the new coronavirus disease (COVID-19). When that day comes, Sid Chakravarthy '13 and his company, StaTwig, could be among the vaccine's guardians, ensuring it travels safely to people around the world.
Founded in 2016, StaTwig pairs blockchain technology, which creates a digital ledger of transactions, with the Internet of Things (IoT), a network of smart devices, to monitor products like food and vaccines as they move through the supply chain. Chakravarthy started the company after receiving his master's degree in telecommunications and working for almost 10 years in the technology field.
"I moved back to India in 2016 and spent a lot of time in different settings – manufacturing, agriculture, pharmaceuticals," he said. "I tried to figure out if there's any value in using new technologies in the manufacturing setting."
While there, Chakravarthy discovered a common problem: supply chain visibility. After products left the manufacturers, the companies had little to no knowledge of what happened to them on their journey to the customer.
"That became critical, especially with some of the perishable products like food, vaccines and pharmaceuticals," he said. "A lot can go wrong with these products. They can go bad or spoil, they can get contaminated."
Perishable products like vaccines need a "cold chain," which the U.S. Centers for Disease Control and Prevention describes as a temperature-controlled supply chain, to retain their potency. The chain begins with cold storage at the manufacturing plant and continues through the vaccine's transport and delivery. It ends when the vaccine is finally administered to a patient.
Remote temperature monitoring (RTM) provides real-time monitoring, but studies show some developing countries lack the equipment or the trained staff to implement it properly.
As a result, lives – and billions of dollars – are lost. The United Nations estimates nearly a third of all food goes to waste during its storage and transportation. And the World Health Organization estimates almost half of vaccines are ruined before they reach patients because of logistics, temperature control and shipment-related issues.
Chakravarthy realized his company could provide stakeholders with real-time updates on their products, as well as help predict and even prevent some of the failures in the supply chain.
In 2018, two years after StaTwig launched, the UNICEF Innovation Fund invested $100,000 in the company to help improve vaccine delivery. Since then, StaTwig has designed and developed two products: Vaccine Ledger and Baby Boo. Both track a vaccine's journey from manufacturer to child.
Each vaccine is tagged with a QR code which gives the vaccine its own identity in the supply chain. As the vaccine moves through the chain, stakeholders scan the code using a mobile application and see conditions like temperature and humidity.
"It's a complete mapping of where products are," he said. "How much is available; how soon will the next inventory arrive. It gives us a big picture."
"As the transaction data on blockchain is distributed, decentralized and immutable it helps build trust, transparency and authenticity in the supply chains," Chakravarthy continued. "This is very important for products such as COVID-19, because everyone will be fighting over these vaccines once they are out. We need fair and transparent procurement and distribution of these vaccines so that poor and vulnerable populations are not left out."
StaTwig is also working with Gavi, The Vaccine Alliance, an organization funded by the Bill & Melinda Gates Foundation that improves access to new and underused vaccines for children in poor countries.
"All this work has suddenly escalated because of the coronavirus," Chakravarthy said. "It's the same stakeholders that will end up manufacturing and distributing the COVID-19 vaccine. They have the metrics in place, but it's a big challenge. There are 7 billion people on earth, and all of them have to get vaccinated."
Once a COVID-19 vaccine is identified and ready for distribution, StaTwig will likely be one of the companies monitoring its travels from manufacturer to hospitals and health organizations worldwide.
Chakravarthy, who now lives in California, said projects with a social impact are what keep him and his team of 15 motivated.
"There's a huge return on the work we're doing," he said. "It's satisfying. Innovation is innovation, but if it has a direct social and economic impact, I think there's extra pleasure that you get out of it."
The Alumni Blog connects you with the latest at UMD. Check out articles on advancing your personal and professional goals, elevating your UMD pride, and celebrating Terp traditions, legacies and accomplishments. For even more content, follow the Alumni Association on Facebook, Instagram and Twitter.